Astronomy Picture Of the Day (APOD)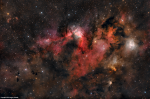 The Light, the Dark, and the Dusty
30.11.2022
This colorful skyscape spans about four full moons across nebula rich starfields along the plane of our Milky Way Galaxy in the royal northern constellation Cepheus. Near the edge of the region's massive...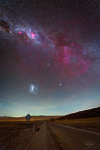 The Gum Nebula Supernova Remnant
29.11.2022
Because the Gum Nebula is the closest supernova remnant, it is actually hard to see. Spanning 40 degrees across the sky, the nebula appears so large and faint that it is easily lost in the din of a bright and complex background.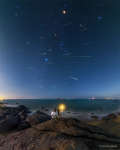 Leonid Meteors Through Orion
28.11.2022
Where will the next meteor appear? Even during a meteor shower, it is practically impossible to know. Therefore, a good way to enjoy a meteor shower is to find a place where you can sit comfortably and monitor a great expanse of dark sky.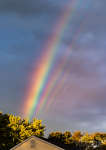 Supernumerary Rainbows over New Jersey
27.11.2022
Yes, but can your rainbow do this? After the remnants of Hurricane Florence passed over the Jersey Shore, New Jersey, USA in 2018, the Sun came out in one direction but something quite unusual appeared in the opposite direction: a hall of rainbows.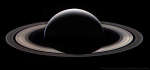 Saturn at Night
26.11.2022
Saturn is still bright in planet Earth's night skies. Telescopic views of the distant gas giant and its beautiful rings often make it a star at star parties. But this stunning view of Saturn's rings and night side just isn't possible from telescopes closer to the Sun than the outer planet.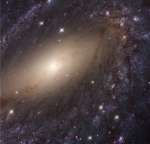 NGC 6744: Extragalactic Close Up
25.11.2022
Beautiful spiral galaxy NGC 6744 is nearly 175,000 light-years across. That's larger than the Milky Way. It lies some 30 million light-years distant in the southern constellation Pavo, with its galactic disk tilted towards our line of sight.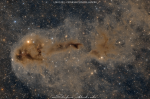 Lynds Dark Nebula 1251
24.11.2022
Stars are forming in Lynds Dark Nebula (LDN) 1251. About 1,000 light-years away and drifting above the plane of our Milky Way galaxy, the dusty molecular cloud is part of a complex of dark nebulae mapped toward the Cepheus flare region.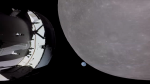 Earthset from Orion
23.11.2022
Eight billion people are about to disappear in this snapshot from space. Taken on November 21, the sixth day of the Artemis 1 mission, their home world is setting behind the Moon's bright edge as viewed by an external camera on the outbound Orion spacecraft.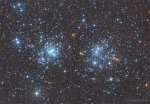 A Double Star Cluster in Perseus
22.11.2022
Few star clusters this close to each other. Visible to the unaided eye from dark sky areas, it was cataloged in 130 BC by Greek astronomer Hipparchus. Some 7,000 light-years away, this pair...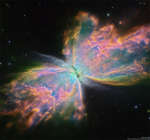 The Butterfly Nebula from Hubble
21.11.2022
Stars can make beautiful patterns as they age -- sometimes similar to flowers or insects. NGC 6302, the Butterfly Nebula, is a notable example. Though its gaseous wingspan covers over 3 light-years and its estimated...