Astronomy Picture Of the Day (APOD)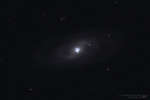 The Einstein Cross Gravitational Lens
16.12.2017
Most galaxies have a single nucleus -- does this galaxy have four? The strange answer leads astronomers to conclude that the nucleus of the surrounding galaxy is not even visible in this image. The central cloverleaf is rather light emitted from a background quasar.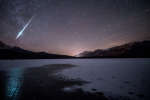 A Wintry Shower
15.12.2017
Four Geminids flash through northern skies in this wintry night skyscape. The bright fireball and 3 fainter meteors were captured in a single 10 second exposure, near the peak of December's Geminid meteor shower.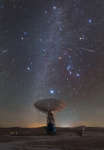 Geminids of the North
14.12.2017
Earth's annual Geminid meteor shower did not disappoint as our fair planet plowed through dust from active asteroid 3200 Phaethon. Captured in this northern hemisphere nightscape, the meteors stream away from the shower's radiant in Gemini.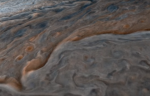 Jupiter Diving
13.12.2017
Take this simulated plunge and dive into the upper atmosphere of Jupiter, the Solar System's ruling gas giant. The awesome animation is based on image data from JunoCam, and the microwave radiometer on board the Jupiter-orbiting Juno spacecraft.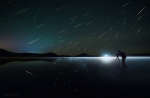 Meteors over Inner Mongolia
12.12.2017
Did you ever get caught in a meteor shower? If yes, then every minute or so the sky sparked with fleeting flashes of light. This was the fate of the pictured astrophotographer during last year's Perseids meteor shower.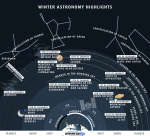 Highlights of the Winter Sky
11.12.2017
What's up in the sky this winter? The featured graphic gives a few highlights for Earth's northern hemisphere. Viewed as a clock face centered at the bottom, early winter sky events fan out toward the left, while late winter events are projected toward the right.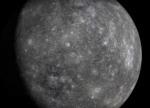 Mercury Visualized from MESSENGER
10.12.2017
What would it be like to fly over the planet Mercury? Images and data taken from NASA's robotic MESSENGER spacecraft that orbited Mercury from 2011 to 2015 have been digitally combined to envision a virtual flight that highlights much of the hot planet's surface.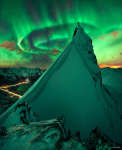 In Green Company: Aurora over Norway
9.12.2017
Raise your arms if you see an aurora. With those instructions, two nights went by with, well, clouds -- mostly. On the third night of returning to same peaks, though, the sky not only cleared up but lit up with a spectacular auroral display.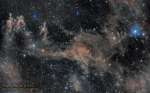 Stardust in Aries
8.12.2017
This composition in stardust covers over 8 degrees on the northern sky. The mosaicked field of view is west of the familiar Pleiades star cluster, toward the zodiacal constellation Aries and the plane of our Milky Way Galaxy.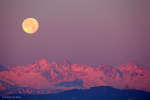 Alpine Superga Moonset
7.12.2017
December's Full Moon phase occurred near perigee, the closest point in its orbit around our fair planet. Big and bright, the fully illuminated lunar disk sets over rugged mountains in this early morningscape from Turin, Italy.