Astronomy Picture Of the Day (APOD)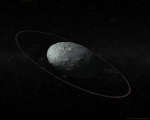 Haumea of the Outer Solar System
17.10.2017
One of the strangest objects in the outer Solar System has recently been found to have a ring. The object, named Haumea, is the fifth designated dwarf planet after Pluto, Ceres, Eris, and Makemake. Haumea's oblong shape makes it quite unusual.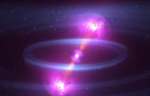 GW170817: A Spectacular Multiradiation Merger Event Detected
16.10.2017
Both gravitational and electromagnetic radiations have been detected in rapid succession for an explosive merging event for the first time. Data from the outburst fit well with a spectacular binary neutron-star death-spiral. The explosive episode was seen on August 17 in nearby NGC 4993, an elliptical galaxy only 130 million light years distant.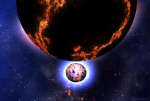 On the Origin of Gold
15.10.2017
Where did the gold in your jewelry originate? No one is completely sure. The relative average abundance in our Solar System appears higher than can be made in the early universe, in stars, and even in typical supernova explosions.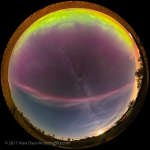 All Sky Steve
14.10.2017
Familiar green and red tinted auroral emission floods the sky along the northern (top) horizon in this fish-eye panorama projection from September 27. On the mild, clear evening the Milky Way tracks through the zenith of a southern Alberta sky and ends where the six-day-old Moon sets in the southwest.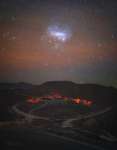 Under the Galaxy
13.10.2017
The Large Magellanic Cloud, a satellite galaxy of the Milky Way, stands above the southern horizon in this telephoto view from Las Campanas Observatory, planet Earth. In the dark September skies of the Chilean Atacama desert, the small galaxy has an impressive span of about 10 degrees or 20 Full Moons.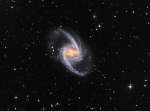 NGC 1365: Majestic Island Universe
12.10.2017
Barred spiral galaxy NGC 1365 is truly a majestic island universe some 200,000 light-years across. Located a mere 60 million light-years away toward the chemical constellation Fornax, NGC 1365 is a dominant member of the well-studied Fornax galaxy cluster.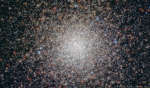 Star Cluster NGC 362 from Hubble
11.10.2017
If our Sun were near the center of NGC 362, the night sky would glow like a jewel box of bright stars. Hundreds of stars would glow brighter than Sirius, and in many different colors.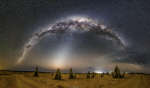 Milky Way and Zodiacal Light over Australian Pinnacles
10.10.2017
What strange world is this? Earth. In the foreground of the featured image are the Pinnacles, unusual rock spires in Nambung National Park in Western Australia. Made of ancient sea shells (limestone), how these human-sized picturesque spires formed remains a topic of research. The panorama was taken last month.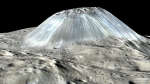 Unusual Mountain Ahuna Mons on Asteroid Ceres
9.10.2017
What created this unusual mountain? Ahuna Mons is the largest mountain on the largest known asteroid in our Solar System, Ceres, which orbits our Sun in the main asteroid belt between Mars and Jupiter. Ahuna Mons, though, is like nothing that humanity has ever seen before.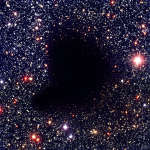 Dark Molecular Cloud Barnard 68
8.10.2017
Where did all the stars go? What used to be considered a hole in the sky is now known to astronomers as a dark molecular cloud. Here, a high concentration of dust and molecular gas absorb practically all the visible light emitted from background stars.