Astronomy Picture Of the Day (APOD)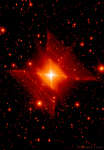 The Red Square Nebula
25.09.2021
How did a round star create this square nebula? No one is quite sure. The round star, known as MWC 922 and possibly part of a multiple star system, appears at the center of the Red Square Nebula. The featured image combines infrared exposures from the Hale Telescope on Mt.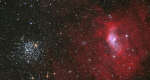 The Bubble and the Star Cluster
24.09.2021
To the eye, this cosmic composition nicely balances the Bubble Nebula at the right with open star cluster M52. The pair would be lopsided on other scales, though. Embedded in a complex of interstellar...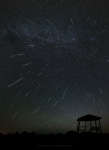 Perseid Outburst at Westmeath Lookout
23.09.2021
This year an outburst of Perseid meteors surprised skywatchers. The reliable meteor shower's peak was predicted for the night of August 12/13. But persistent visual observers in North America were deluged with...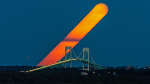 Harvest Moon Trail
22.09.2021
Famed in festival, story, and song the best known full moon is the Harvest Moon. For northern hemisphere dwellers that's a traditional name of the full moon nearest the September equinox. Seen from...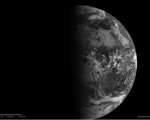 Equinox on a Spinning Earth
21.09.2021
When does the line between night and day become vertical? Today. Today is an equinox on planet Earth, a time of year when day and night are most nearly equal. At an equinox, the Earth's terminator -- the dividing line between day and night -- becomes vertical and connects the north and south poles.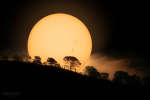 Sun Spot Hill
20.09.2021
Is this giant orange ball about to roll down that tree-lined hill? No, because the giant orange ball is actually the Sun. Our Solar System's central star was captured rising beyond a hill on Earth twelve days ago complete with a delightfully detailed foreground.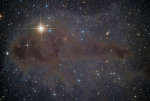 Lynds Dark Nebula
19.09.2021
Stars are forming in Lynds Dark Nebula (LDN) 1251. About 1,000 light-years away and drifting above the plane of our Milky Way galaxy, the dusty molecular cloud is part of a complex of dark nebulae mapped toward the Cepheus flare region.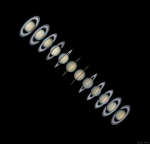 Rings and Seasons of Saturn
18.09.2021
On Saturn, the rings tell you the season. On Earth, Wednesday marks an equinox, the time when the Earth's equator tilts directly toward the Sun. Since Saturn's grand rings orbit along...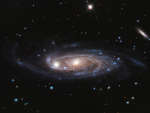 Rubin's Galaxy
17.09.2021
In this Hubble Space Telescope image the bright, spiky stars lie in the foreground toward the heroic northern constellation Perseus and well within our own Milky Way galaxy. In sharp focus beyond is UGC 2885, a giant spiral galaxy about 232 million light-years distant.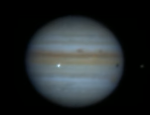 Video: Flash on Jupiter
16.09.2021
There has been a flash on Jupiter. A few days ago, several groups monitoring our Solar System's largest planet noticed a two-second long burst of light. Such flashes have been seen before, with the most famous being a series of impactor strikes in 1994.