Astronomy Picture Of the Day (APOD)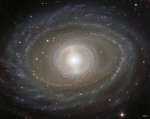 Ribbons and Pearls of Spiral Galaxy NGC 1398
23.01.2018
Why do some spiral galaxies have a ring around the center? Spiral galaxy NGC 1398 not only has a ring of pearly stars, gas and dust around its center, but a bar of stars and gas across its center, and spiral arms that appear like ribbons farther out.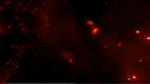 An Immersive Visualization of the Galactic Center
22.01.2018
What if you could look out from the center of our Galaxy -- what might you see? Two scientifically-determined possibilities are shown in the featured video, an immersive 360-degree view which allows you to look around in every direction.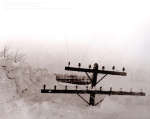 The Upper Michigan Blizzard of 1938
21.01.2018
Yes, but can your blizzard do this? In Upper Michigan's Storm of the Century in 1938, some snow drifts reached the level of utility poles. Nearly a meter of new and unexpected snow fell over two days in a storm that started 80 years ago this week.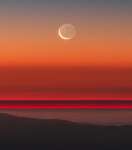 Old Moon in the New Moon s Arms
20.01.2018
Also known as the Moon's "ashen glow" or the "Old Moon in the New Moon's arms", earthshine is earthlight reflected from the Moon's night side. This stunning image of earthshine from a young crescent moon was taken from Las Campanas Observatory, Atacama Desert, Chile, planet Earth near moonset on January 18.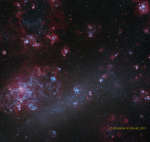 Clouds in the LMC
19.01.2018
An alluring sight in southern skies, the Large Magellanic Cloud (LMC) is seen in this deep and detailed telescopic mosaic. Recorded with broadband and narrowband filters, the scene spans some 5 degrees or 10 full moons. The narrowband filters are designed to transmit only light emitted by hydrogen, and oxygen atoms.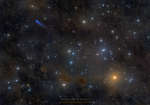 Blue Comet in the Hyades
18.01.2018
Stars of the Hyades cluster are scattered through this mosaic spanning over 5 degrees on the sky toward the constellation Taurus. Presently cruising through the Solar System, the remarkably blue comet C/2016 R2 PanSTARRS is placed in the wide field of view using image data from January 12.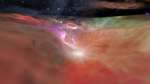 In the Valley of Orion
17.01.2018
This exciting and unfamiliar view of the Orion Nebula is a visualization based on astronomical data and movie rendering techniques. Up close and personal with a famous stellar nursery normally seen from...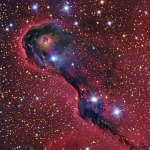 An Elephant s Trunk in Cepheus
16.01.2018
With image data from telescopes large and small, this close-up features the dusty Elephant's Trunk Nebula. It winds through the emission nebula and young star cluster complex IC 1396, in the high and far off constellation of Cepheus. Also known as vdB 142, the cosmic elephant's trunk is over 20 light-years long.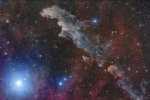 Rigel and the Witch Head Nebula
15.01.2018
By starlight this eerie visage shines in the dark, a crooked profile evoking its popular name, the Witch Head Nebula. In fact, this entrancing telescopic portrait gives the impression that the witch has fixed her gaze on Orion's bright supergiant star Rigel.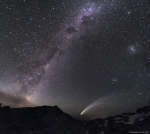 Three Galaxies and a Comet
14.01.2018
Diffuse starlight and dark nebulae along the southern Milky Way arc over the horizon and sprawl diagonally through this gorgeous nightscape. The breath-taking mosaic spans a wide 100 degrees, with the rugged terrain of the Patagonia, Argentina region in the foreground.