Astronomy Picture Of the Day (APOD)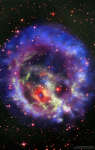 The Lonely Neutron Star in Supernova E0102 72.3
30.09.2018
Why is this neutron star off-center? Recently a lone neutron star has been found within the debris left over from an old supernova explosion. The "lonely neutron star" in question is the blue dot at the center of the red nebula near the bottom left of E0102-72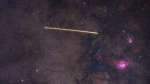 55 Nights with Saturn
29.09.2018
For 55 consecutive nights Mediterranean skies were at least partly clear this summer, from the 1st of July to the 24th of August 2018. An exposure from each night was incorporated in this composited telephoto and telescopic image to follow bright planet Saturn as it wandered through the generous evening skies.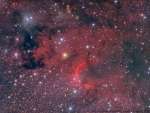 The Light, the Dark, and the Dusty
28.09.2018
This colorful skyscape spans about two full moons across nebula rich starfields along the plane of our Milky Way Galaxy in the royal northern constellation Cepheus. Near the edge of the region's massive...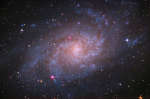 M33: Triangulum Galaxy
27.09.2018
The small, northern constellation Triangulum harbors this magnificent face-on spiral galaxy, M33. Its popular names include the Pinwheel Galaxy or just the Triangulum Galaxy. M33 is over 50,000 light-years in diameter, third largest in the Local Group of galaxies after the Andromeda Galaxy (M31), and our own Milky Way.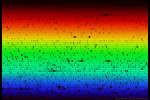 The Suns Spectrum with its Missing Colors
26.09.2018
It is still not known why the Sun's light is missing some colors. Here are all the visible colors of the Sun, produced by passing the Sun's light through a prism-like device.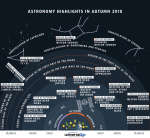 Highlights of the North Autumn Sky
25.09.2018
What can you see in the night sky this season? The featured graphic gives a few highlights for Earth's northern hemisphere. Viewed as a clock face centered at the bottom, early (northern) autumn sky events fan out toward the left, while late autumn events are projected toward the right.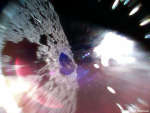 Rover 1A Hops on Asteroid Ryugu
24.09.2018
Two small robots have begun hopping around the surface of asteroid Ryugu. The rovers, each the size of a small frying pan, move around the low gravity of kilometer-sized 162173 Ryugu by hopping, staying aloft for about 15 minutes and typically landing again several meters away.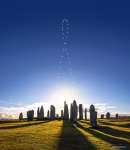 Equinox: Analemma over the Callanish Stones
23.09.2018
Does the Sun return to the same spot on the sky every day at the same time? No. A more visual answer to that question is an analemma, a composite image taken from the same spot at the same time over the course of a year.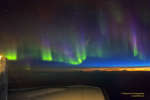 Window Seat over Hudson Bay
22.09.2018
On the August 18 night flight from San Francisco to Zurich, a window seat offered this tantalizing view when curtains of light draped a colorful glow across the sky over Hudson Bay. Constructed...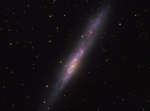 Irregular Galaxy NGC 55
21.09.2018
Irregular galaxy NGC 55 is thought to be similar to the Large Magellanic Cloud (LMC). But while the LMC is about 180,000 light-years away and is a well known satellite of our own Milky Way Galaxy, NGC 55 is more like 6 million light-years distant and is a member of the Sculptor Galaxy Group.