Astronomy Picture Of the Day (APOD)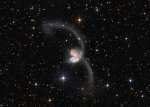 Exploring the Antennae
31.03.2022
Some 60 million light-years away in the southerly constellation Corvus, two large galaxies are colliding. Stars in the two galaxies, cataloged as NGC 4038 and NGC 4039, very rarely collide in the course of the ponderous cataclysm that lasts for hundreds of millions of years.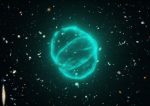 Animation: Odd Radio Circles
30.03.2022
What do you call a cosmic puzzle that no one expected to see? In this case, Odd Radio Circles, aka ORCs. ORC-1 typifies the enigmatic five objects, only visible at radio frequencies, that were serendipitously discovered in 2019 using the new Australian SKA Pathfinder radio array.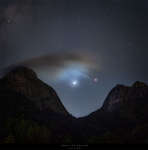 Venus and Mars: Passing in the Night
29.03.2022
When two planets pass on the night sky, they can usually be seen near each other for a week or more. In the case of this planetary conjunction, Venus and Mars passed within 4 degrees of each other earlier this month.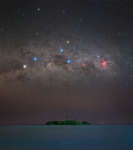 Gems of a Maldivean Night
28.03.2022
The southernmost part of the Milky Way contains not only the stars of the Southern Cross, but the closest star system to our Sun -- Alpha Centauri. The Southern Cross itself is topped by the bright, yellowish star Gamma Crucis.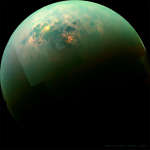 Titan Seas Reflect Sunlight
27.03.2022
Why would the surface of Titan light up with a blinding flash? The reason: a sunglint from liquid seas. Saturn's moon Titan has numerous smooth lakes of methane that, when the angle is right, reflect sunlight as if they were mirrors.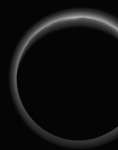 Pluto at Night
26.03.2022
The night side of Pluto spans this shadowy scene. In the stunning spacebased perspective the Sun is 4.9 billion kilometers (almost 4.5 light-hours) behind the dim and distant world. It was captured...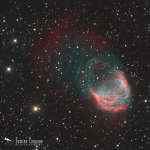 The Medusa Nebula
25.03.2022
Braided and serpentine filaments of glowing gas suggest this nebula's popular name, The Medusa Nebula. Also known as Abell 21, this Medusa is an old planetary nebula some 1,500 light-years away in the constellation Gemini. Like its mythological namesake, the nebula is associated with a dramatic transformation.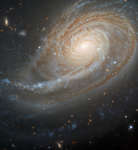 Arp 78: Peculiar Galaxy in Aries
24.03.2022
Peculiar spiral galaxy Arp 78 is found within the boundaries of the head strong constellation Aries. Some 100 million light-years beyond the stars and nebulae of our Milky Way galaxy, the island universe is over 100,000 light-years across.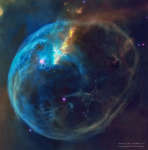 The Bubble Nebula from Hubble
23.03.2022
Massive stars can blow bubbles. The featured image shows perhaps the most famous of all star-bubbles, NGC 7635, also known simply as The Bubble Nebula. Although it looks delicate, the 7-light-year diameter bubble offers evidence of violent processes at work.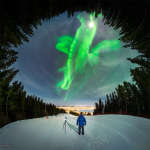 A Whale of an Aurora over Swedish Forest
22.03.2022
What's that in the sky? An aurora. A large coronal mass ejection occurred on our Sun earlier this month, throwing a cloud of fast-moving electrons, protons, and ions toward the Earth. Part...