Astronomy Picture Of the Day (APOD)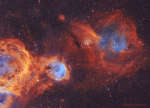 Carina Nebula North
31.01.2022
The Great Carina Nebula is home to strange stars and iconic nebulas. Named for its home constellation, the huge star-forming region is larger and brighter than the Great Orion Nebula but less well known because it is so far south -- and because so much of humanity lives so far north.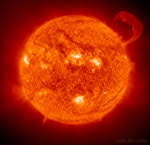 A Solar Prominence from SOHO
30.01.2022
How can gas float above the Sun? Twisted magnetic fields arching from the solar surface can trap ionized gas, suspending it in huge looping structures. These majestic plasma arches are seen as prominences above the solar limb.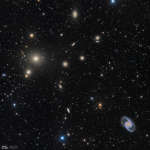 The Fornax Cluster of Galaxies
29.01.2022
Named for the southern constellation toward which most of its galaxies can be found, the Fornax Cluster is one of the closest clusters of galaxies. About 62 million light-years away, it is almost...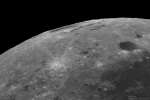 Western Moon, Eastern Sea
28.01.2022
The Mare Orientale, Latin for Eastern Sea, is one of the most striking large scale lunar features. The youngest of the large lunar impact basins it's very difficult to see from an earthbound perspective.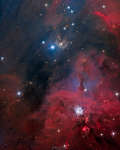 South of Orion
27.01.2022
South of the large star-forming region known as the Orion Nebula, lies bright blue reflection nebula NGC 1999. At the edge of the Orion molecular cloud complex some 1,500 light-years distant, NGC 1999's illumination is provided by the embedded variable star V380 Orionis.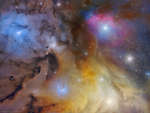 Stars, Dust, and Gas Near Antares
26.01.2022
Why is the sky near Antares and Rho Ophiuchi so dusty yet colorful? The colors result from a mixture of objects and processes. Fine dust -- illuminated from the front by starlight -- produces blue reflection nebulae. Gaseous clouds whose atoms are excited by ultraviolet starlight produce reddish emission nebulae.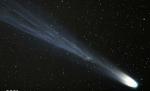 Video: Comet Leonard over One Hour
25.01.2022
Which direction is this comet heading? Judging by the tail, one might imagine that Comet Leonard is traveling towards the bottom right, but a full 3D analysis shows it traveling almost directly away from the camera.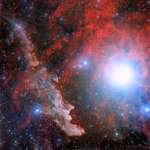 Rigel and the Witch Head Nebula
24.01.2022
By starlight this eerie visage shines in the dark, a crooked profile evoking its popular name, the Witch Head Nebula. In fact, this entrancing telescopic portrait gives the impression that the witch has fixed her gaze on Orion's bright supergiant star Rigel.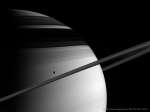 Saturn, Tethys, Rings, and Shadows
23.01.2022
Seen from ice moon Tethys, rings and shadows would display fantastic views of the Saturnian system. Haven't dropped in on Tethys lately? Then this gorgeous ringscape from the Cassini spacecraft will have to do for now.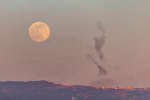 The Full Moon and the Dancer
22.01.2022
On Monday, January's Full Moon rose as the Sun set. Spotted near the eastern horizon, its warm hues are seen in this photo taken near Cagliari, capital city of the Italian island of Sardinia.