Astronomy Picture Of the Day (APOD)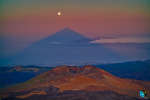 A Triangular Shadow of a Large Volcano
5.07.2011
Why does the shadow of this volcano look like a triangle? The Mount Teide volcano itself does not have the strictly pyramidal shape that its geometric shadow might suggest. The triangle shadow phenomena is not unique to the Mt. Teide, though, and is commonly seen from the tops of other large mountains and volcanoes.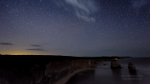 Southern Ocean Sky
4.07.2011
Clouds and sky both show illuminating changes during this time lapse video from the south of Australia. In the foreground are scenes visible over a rocky coastline toward the Southern Ocean. Dark clouds flow...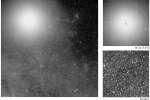 Alpha Centauri: The Closest Star System
3.07.2011
The closest star system to the Sun is the Alpha Centauri system. Of the three stars in the system, the dimmest -- called Proxima Centauri -- is actually the nearest star. The bright stars Alpha Centauri...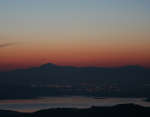 Moon and Venus at Dawn
2.07.2011
Brilliant Venus and a thin crescent Moon stood together above the eastern horizon just before sunrise on June 30. The lovely celestial pairing is captured in this colorful twilight skyview overlooking a reservoir near Izmir, Turkey. For some, the close conjunction could be viewed as a daylight occultation.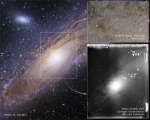 VAR
1.07.2011
In the 1920s, examining photographic plates from the Mt. Wilson Observatory's 100 inch telescope, Edwin Hubble determined the distance to the Andromeda Nebula, decisively demonstrating the existence of other galaxies far beyond the Milky Way.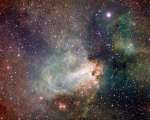 Star Factory Messier 17
30.06.2011
Sculpted by stellar winds and radiation, the star factory known as Messier 17 lies some 5,500 light-years away in the nebula-rich constellation Sagittarius. At that distance, this degree wide field of view spans almost 100 light-years, courtesy of ESO's new VLT Survey Telescope and OmegaCAM.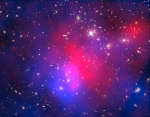 Abell 2744: Pandoras Cluster of Galaxies
29.06.2011
Why is this cluster of galaxies so jumbled? Far from a smooth distribution, Abell 2744 not only has knots of galaxies, but the X-ray emitting hot gas (colored red) in the cluster appears distributed differently than the dark matter.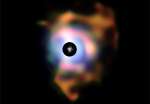 Stardust and Betelgeuse
28.06.2011
An expansive nebula of dust is seen to surround red supergiant star Betegeuse in this remarkable high resolution composite, an infrared VLT image from the European Southern Observatory. Betelgeuse itself is outlined by the small, central red circle. If found in our own solar system its diameter would almost encompass the orbit of Jupiter.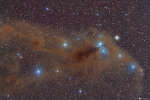 Stars and Dust Across Corona Australis
27.06.2011
Cosmic dust clouds sprawl across a rich field of stars in this sweeping telescopic vista near the northern boundary of Corona Australis, the Southern Crown. Probably less than 500 light-years away and effectively blocking...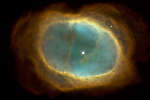 NGC 3132: The Eight Burst Nebula
26.06.2011
It's the dim star, not the bright one, near the center of NGC 3132 that created this odd but beautiful planetary nebula. Nicknamed the Eight-Burst Nebula and the Southern Ring Nebula, the glowing gas originated in the outer layers of a star like our Sun.