Astronomy Picture Of the Day (APOD)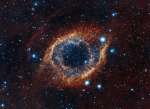 The Helix Nebula from the VISTA Telescope
31.01.2012
Will our Sun look like this one day? The Helix Nebula is one of brightest and closest examples of a planetary nebula, a gas cloud created at the end of the life of a Sun-like star.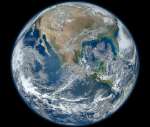 Blue Marble Earth from Suomi NPP
30.01.2012
Behold one of the more detailed images of the Earth yet created. This Blue Marble Earth montage shown above -- created from photographs taken by the Visible/Infrared Imager Radiometer Suite (VIIRS) instrument on board the new Suomi NPP satellite -- shows many stunning details of our home planet.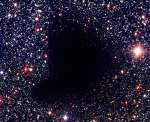 Molecular Cloud Barnard 68
29.01.2012
Where did all the stars go? What used to be considered a hole in the sky is now known to astronomers as a dark molecular cloud. Here, a high concentration of dust and molecular gas absorb practically all the visible light emitted from background stars.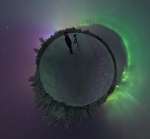 Planet Aurora Borealis
28.01.2012
Illuminated by an eerie greenish light, this remarkable little planet is covered with ice and snow and ringed by tall pine trees. Of course, this little planet is actually planet Earth, and the surrounding stars are above the horizon near Östersund, Sweden.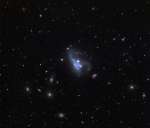 NGC 3239 and SN 2012A
27.01.2012
About 40,000 light-years across, pretty, irregular galaxy NGC 3239 lies near the center of this lovely field of galaxies in the galaxy rich constellation Leo. At a distance of only 25 million light-years...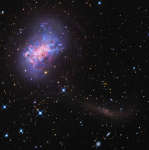 NGC 4449: Star Stream for a Dwarf Galaxy
26.01.2012
A mere 12.5 million light-years from Earth, irregular dwarf galaxy NGC 4449 lies within the confines of Canes Venatici, the constellation of the Hunting Dogs. About the size of our Milky Way's satellite...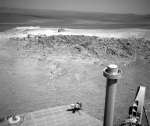 Opportunity Rover Spots Greeley Haven on Mars
25.01.2012
Where on Mars should you spend the winter? As winter approached in the southern hemisphere of Mars last November, the Opportunity rover had just this problem -- it needed a place to go. The reduced...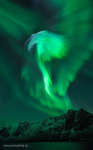 January Aurora Over Norway
24.01.2012
What's that in the sky? An aurora. A large coronal mass ejection occurred on our Sun five days ago, throwing a cloud of fast moving electrons, protons, and ions toward the Earth. Although...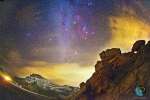 Deep Orion Over the Canary Islands
23.01.2012
Which attracts your eye more -- the sky or the ground? On the ground are rocky peaks in Teide National Park on Tenerife Island of the Spanish Canary Islands off the northwestern coast of Africa. The volcanic landscape features old island summits and is sometimes used as a testbed for instruments on future Martian rovers.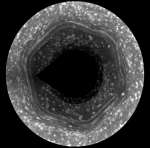 Saturns Hexagon Comes to Light
22.01.2012
Believe it or not, this is the North Pole of Saturn. It is unclear how an unusual hexagonal cloud system that surrounds Saturn's north pole was created, keeps its shape, or how long it will last.