Astronomy Picture Of the Day (APOD)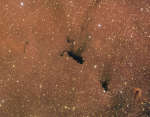 Molecular Cloud Barnard 163
1.05.2011
It may look to some like a duck, but it lays stars instead of eggs. In the center of the above image lies Barnard 163, a nebula of molecular gas and dust so thick that visible light can't shine through it.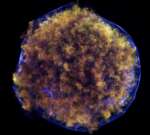 Tycho s Supernova Remnant
30.04.2011
Tycho! Tycho! burning bright In the darkness of the night, What exploding white dwarf star Did frame thy remnant from afar, In the distant deep dark skies Under gaze of human eyes? Seen by mortals and their ma Named for one called Tycho Brahe.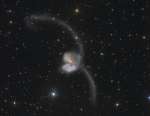 The Antennae
29.04.2011
Some 60 million light-years away in the southerly constellation Corvus, two large galaxies collided. But the stars in the two galaxies, cataloged as NGC 4038 and NGC 4039, don't collide in the course of the ponderous event, lasting hundreds of millions of years.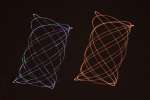 Scintillating
28.04.2011
On June 4, 2010 Regulus, alpha star of the constellation Leo, and wandering planet Mars were at about the same apparent brightness, separated on the sky by 1.5 degrees. An ingenious and creative 10 second exposure from a swinging camera recorded these gyrating trails of the celestial pairing.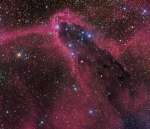 The Dark Tower in Scorpius
27.04.2011
In silhouette against a crowded star field toward the constellation Scorpius, this dusty cosmic cloud evokes for some the image of an ominous dark tower. In fact, clumps of dust and molecular gas collapsing...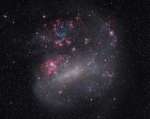 Hydrogen in the LMC
26.04.2011
A satellite galaxy of our own Milky Way, the Large Magellanic Cloud (LMC) is an alluring sight in dark southern skies and the constellation Dorado. A mere 180,000 light-years distant...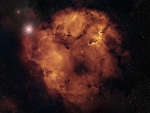 Monsters of IC 1396
25.04.2011
Is there a monster in IC 1396? Known to some as the Elephant's Trunk Nebula, parts of the glowing gas and dust clouds of this star formation region may appear to take on foreboding forms, some nearly human. The entire nebula might even look like a face of a monster.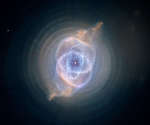 The Cat s Eye Nebula from Hubble
24.04.2011
Staring across interstellar space, the alluring Cat's Eye nebula lies three thousand light-years from Earth. A classic planetary nebula, the Cat's Eye (NGC 6543) represents a final, brief yet glorious phase in the life of a sun-like star.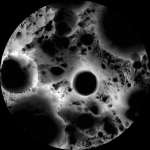 Shadows at the Lunar South Pole
23.04.2011
What is it? It's a multi-temporal illumination map, of course. To make it, the wide angle camera on the Lunar Reconnaissance Orbiter spacecraft collected 1,700 images over a period of 6 lunar days (6 Earth months), repeatedly covering an area centered on the Moon's south pole.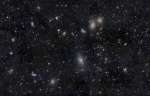 Virgo Cluster Galaxies
22.04.2011
Well over a thousand galaxies are known members of the Virgo Cluster, the closest large cluster of galaxies to our own local group. In fact, the galaxy cluster is difficult to appreciate all at once because it covers such a large area on the sky.