Astronomy Picture Of the Day (APOD)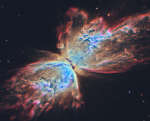 The Butterfly Nebula from Hubble
1.10.2014
The bright clusters and nebulae of planet Earth's night sky are often named for flowers or insects. Though its wingspan covers over 3 light-years, NGC 6302 is no exception. With an estimated surface...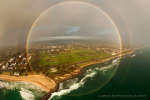 A Full Circle Rainbow over Australia
30.09.2014
Have you ever seen an entire rainbow? From the ground, typically, only the top portion of a rainbow is visible because directions toward the ground have fewer raindrops. From the air, though, the entire 360 degree circle of a rainbow is more commonly visible.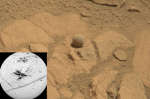 Unusual Rocks near Pahrump Hills on Mars
29.09.2014
How did these Martian rocks form? As the robotic Curiosity rover has approached Pahrump Hills on Mars, it has seen an interesting and textured landscape dotted by some unusual rocks. The featured image shows a curiously round rock spanning about two centimeters across.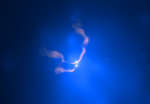 Two Black Holes Dancing in 3C 75
28.09.2014
What's happening at the center of active galaxy 3C 75? The two bright sources at the center of this composite x-ray (blue)/ radio (pink) image are co-orbiting supermassive black holes powering the giant radio source 3C 75.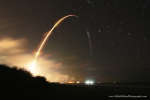 A Launch and a Landing
27.09.2014
Taken from an Atlantic beach, Cape Canaveral, planet Earth, four identically framed digital images are combined in this night skyscape. Slightly shifted short star trails dot the sky, but the exposure times were adjusted to follow the flight of a Falcon 9 rocket.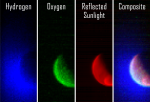 MAVEN at Mars
26.09.2014
Launched on November 18, 2013, the MAVEN (Mars Atmosphere and Volatile EvolutioN) spacecraft completed its interplanetary voyage September 21, captured into a wide, elliptical orbit around Mars. MAVEN's imaging ultraviolet spectrograph has already...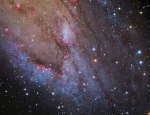 NGC 206 and the Star Clouds of Andromeda
25.09.2014
The large stellar association cataloged as NGC 206 is nestled within the dusty arms of the neighboring Andromeda galaxy. Also known as M31, the spiral galaxy is a mere 2.5 million light-years away.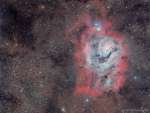 The Lagoon Nebula in Stars Dust and Gas
24.09.2014
The large majestic Lagoon Nebula is home for many young stars and hot gas. Spanning 100 light years across while lying only about 5000 light years distant, the Lagoon Nebula is so big and bright that it can be seen without a telescope toward the constellation of Sagittarius.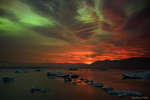 Aurora and Volcanic Light Pillar
23.09.2014
That's no sunset. And that thin red line just above it -- that's not a sun pillar. The red glow on the horizon originates from a volcanic eruption, and the red line is the eruption's reflection from fluttering atmospheric ice crystals. This unusual volcanic light pillar was captured over Iceland earlier this month.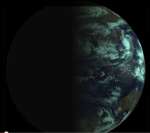 Earth at Equinox
22.09.2014
Earth is at equinox. Over the next 24 hours, day and night have nearly equal duration all over planet Earth. Technically, equinox transpires at 2:29 am Universal Time tomorrow, but this occurs today in North and South America.