Astronomy Picture Of the Day (APOD)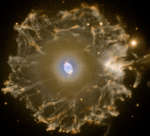 Halo of the Cats Eye
1.06.2014
The Cat's Eye Nebula (NGC 6543) is one of the best known planetary nebulae in the sky. Its haunting symmetries are seen in the very central region of this stunning false-color picture, processed...
Satellite Station and Southern Skies
31.05.2014
This clear night skyscape captures the colorful glow of aurora australis, the southern lights, just outside the port city of Hobart, Tasmania, Australia, planet Earth. As if staring into the dreamlike scene, the Tasmanian Earth Resources Satellite Station poses in the center, illuminated by nearby city lights.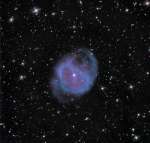 Planetary Nebula Abell 36
30.05.2014
The gorgeous, gaseous shroud of a dying sunlike star, planetary nebula Abell 36 lies a mere 800 light-years away in the constellation of Virgo. At that distance it spans over 1.5 light-years in this sharp telescopic view.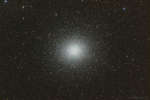 Millions of Stars in Omega Centauri
29.05.2014
Globular star cluster Omega Centauri, also known as NGC 5139, is some 15,000 light-years away. The cluster is packed with about 10 million stars much older than the Sun within a volume about...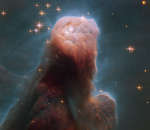 The Cone Nebula from Hubble
28.05.2014
Stars are forming in the gigantic dust pillar called the Cone Nebula. Cones, pillars, and majestic flowing shapes abound in stellar nurseries where natal clouds of gas and dust are buffeted by energetic winds from newborn stars. The Cone Nebula, a well-known example, lies within the bright galactic star-forming region NGC 2264.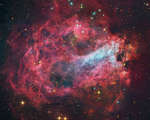 Star Factory Messier 17
27.05.2014
What's happening at the center of this nebula? Sculpted by stellar winds and radiation, the star factory known as Messier 17 lies some 5,500 light-years away in the nebula-rich constellation Sagittarius. At that distance, this degree wide field of view spans almost 100 light-years.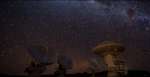 An ALMA Telescope Array Time Lapse
26.05.2014
It is the most expensive and complex ground-based astronomy project ever -- what will it see tonight? The Atacama Large Millimeter Array (ALMA) project consists of 66 dishes, many the size of a small house, situated in the high altitude Atacama Desert in Northern Chile.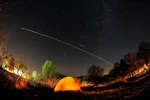 Camelopardalids and ISS
25.05.2014
From a camp on the northern shores of the Great Lake Erie, three short bright meteor streaks were captured in this composited night skyscape. Recorded over the early morning hours of May 24, the meteors are illusive Camelopardalids.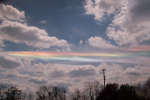 A Circumhorizontal Arc Over Ohio
24.05.2014
Why would clouds appear to be different colors? The reason here is that ice crystals in distant cirrus clouds are acting like little floating prisms. Sometimes known as a fire rainbow for its flame-like appearance, a circumhorizon arc lies parallel to the horizon.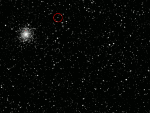 Rosetta s Target Comet
23.05.2014
The Rosetta spacecraft captured this remarkable series of 9 frames between March 27 and May 4, as it closed from 5 million to 2 million kilometers of its target comet. Cruising along...