Astronomy Picture Of the Day (APOD)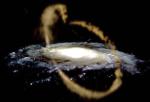 The Sagittarius Dwarf Tidal Stream
30.09.2003
Is our Milky Way Galaxy out to lunch? Recent wide field images and analyses now indicate that our home galaxy is actually still in the process of devouring its closest satellite neighbor. This unfortunate...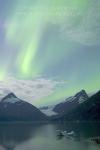 Aurora Over the Chugach Mountains
29.09.2003
Auroras can make spectacular sights. Photographed above, flowing green auroras help the Moon illuminate the serene Portage Lake and the snowy Chugach Mountains near Anchorage, Alaska, USA. Although auroras might first appear to be moonlit clouds, they only add light to the sky and do not block background stars from view.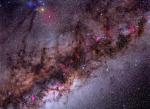 Our Galaxy in Stars, Gas, and Dust
28.09.2003
The disk of our Milky Way Galaxy is home to hot nebulae, cold dust, and billions of stars. The red nebulae visible in the above contrast-enhanced picture are primarily emission nebulae, glowing clouds of hydrogen gas heated by nearby, bright, young stars.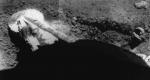 Surveyor Slides
27.09.2003
"Safe!" In September 1967 (during regular season play), the Surveyor 5 lander actually slid several feet while making a successful soft landing on the Moon's Mare Tranquillitatis. Equipped with television cameras and soil...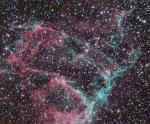 IC1340 in the Eastern Veil
26.09.2003
These ghostly filaments of interstellar gas are just a small part of the expansive Veil Nebula, seen against a rich field of background stars in the long-necked constellation Cygnus. Also known as the Cygnus...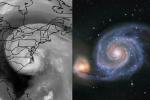 Logarithmic Spirals Isabel and M51
25.09.2003
Uncomfortably close hurricane Isabel (left) and 30 million light-year distant galaxy M51 actually don't have much in common. For starters, Isabel was hundreds of miles across, while M51 (the Whirlpool Galaxy) spans about...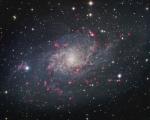 M33: Spiral Galaxy in Triangulum
24.09.2003
The small constellation Triangulum in the northern sky harbors this magnificent face-on spiral galaxy, M33. Its popular names include the Pinwheel Galaxy or just the Triangulum Galaxy. M33's diameter spans over 50,000 light-years, making it third largest in the Local Group of galaxies after the Andromeda Galaxy (M31), and our own Milky Way.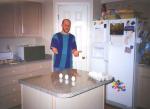 Egging On the Autumnal Equinox
23.09.2003
Today is the autumnal equinox -- should eggs be able to stand on end? This long-standing myth loses much of its mystique after a demonstration that eggs can be made to stand on end during any day of the year. Pictured above, Dr. Phil Plait (Sonoma St.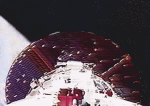 Opportunity Rockets Toward Mars
22.09.2003
Next stop: Mars. Two months ago, the second of two missions to Mars was launched from Cape Canaveral, Florida, USA above a Boeing Delta II rocket. The Mars Exploration Rover dubbed Opportunity is expected to arrive at the red planet this coming January.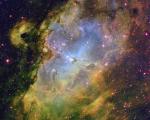 Inside the Eagle Nebula
21.09.2003
From afar, the whole thing looks like an Eagle. A closer look of the Eagle Nebula, however, shows the bright region is actually a window into the center of a larger dark shell of dust. Through this window, a brightly-lit workshop appears where a whole open cluster of stars is being formed.