Astronomy Picture Of the Day (APOD)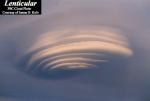 A Lenticular Cloud Over New Hampshire
30.04.2003
Why does this cloud look so strange? Actually, pictured above are several clouds all stacked up into one striking lenticular cloud. Normally, air moves much more horizontally than it does vertically. Sometimes, however, such as when wind comes off of a mountain or a hill, relatively strong vertical oscillations take place as the air stabilizes.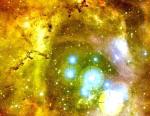 In the Center of the Rosette Nebula
29.04.2003
In the heart of the Rosette Nebula lies a bright open cluster of stars that lights up the nebula. The stars of NGC 2244 formed from the surrounding gas only a few million years ago. This just-released image taken by the CFHT's new MegaPrime camera shows the region in unprecedented detail.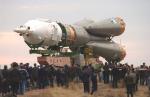 Rollout of a Soyuz TMA 2 Rocket
28.04.2003
It takes a big rocket to go into space. Last weekend, this huge Russian rocket was launched toward Earth-orbiting International Space Station (ISS), carrying two astronauts who will make up the new Expedition 7 crew.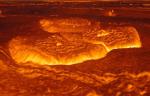 Venus Once Molten Surface
27.04.2003
If you could look at Venus with radar eyes - this is what you might see. This computer reconstruction of the surface of Venus was created from data from the Magellan spacecraft. Magellan orbited Venus and used radar to map our neighboring planet's surface between 1990 and 1994.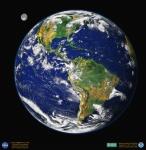 Big Blue Marble Earth
26.04.2003
This reconstructed digital portrait of our planet is reminiscent of the Apollo-era pictures of the "big blue marble" Earth from space. To create it, researchers at Goddard Space Flight Center's Laboratory for Atmospheres...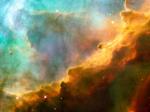 M17: A Hubble Close Up
25.04.2003
Sculpted by stellar winds and radiation, these fantastic, undulating shapes lie within the stellar nursery known as M17, the Omega Nebula, some 5,500 light-years away in the nebula-rich constellation Sagittarius. The lumpy features...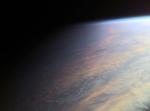 Earth at Twilight
24.04.2003
No sudden, sharp boundary marks the passage of day into night in this gorgeous view of ocean and clouds over our fair planet Earth. Instead, the shadow line or terminator is diffuse and shows the gradual transition to darkness we experience as twilight.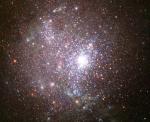 The Stars of NGC 1705
23.04.2003
Some 2,000 light-years across, NGC 1705 is small as galaxies go, similar to our Milky Way's own satellite galaxies, the Magellanic Clouds. At a much larger distance of 17 million light-years...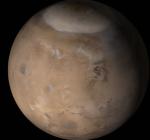 Springtime on Mars
22.04.2003
Vast canyons, towering volcanoes, sprawling fields of ice, deep craters, and high clouds can all be seen in this image of the Solar System's fourth planet: Mars. The orbiting robot Mars Global Surveyor spacecraft took the above mosaic of images as springtime dawned in Northern Mars in 2002 May.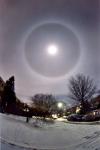 A Halo Around the Moon
21.04.2003
Have you ever seen a halo around the Moon? This fairly common sight occurs when high thin clouds containing millions of tiny ice crystals cover much of the sky. Each ice crystal acts like a miniature lens.