APOD: 2023 March 19 ┴ Equinox at the Pyramid of the Feathered Serpent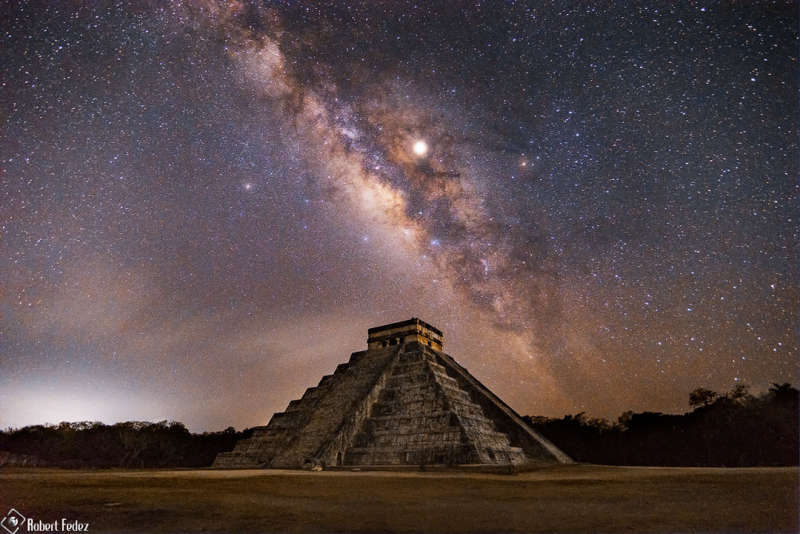 Explanation:
To see the feathered serpent descend the Mayan pyramid requires exquisite timing. You must visit El Castillo -- in Mexico's Yucat÷n Peninsula -- near an
equinox
. Then, during the late afternoon if the sky is clear, the pyramid's own shadows create triangles that merge into the famous illusion of a slithering viper. Also known as the Temple of Kukulkan, the impressive step-pyramid stands 30 meters tall and 55 meters wide at the base. Built up as a series of square terraces by the pre-Columbian civilization between the 9th and 12th century, the structure can be used as a calendar and is noted for
astronomical alignments
. The featured composite image was captured in 2019 with
Jupiter and Saturn
straddling the diagonal central band of our Milky Way galaxy. Tomorrow marks another equinox -- not only at Temple of Kukulc÷n, but all over planet Earth.
Authors & editors:
Robert Nemiroff
(
MTU
) &
Jerry Bonnell
(
USRA
)
NASA Web Site Statements, Warnings, and Disclaimers
NASA Official:
Jay Norris.
Specific rights apply
.
A service of:
LHEA
at
NASA
/
GSFC
&
Michigan Tech. U.
Publications with keywords:
equinox
Publications with words:
equinox
See also: