Astronomy Picture Of the Day (APOD)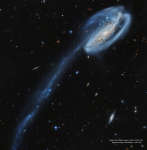 Arp 188 and the Tadpole's Tail
11.12.2018
Why does this galaxy have such a long tail? In this stunning vista, based on image data from the Hubble Legacy Archive, distant galaxies form a dramatic backdrop for disrupted spiral galaxy Arp 188, the Tadpole Galaxy. The cosmic tadpole is a mere 420 million light-years distant toward the northern constellation of the Dragon (Draco).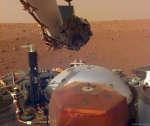 Sound and Light Captured by Mars InSight
10.12.2018
Your arm on Mars has unusual powers. For one thing it is nearly 2 meters long, has a scoop and grapple built into its hand, and has a camera built into its forearm. For another, it will soon deploy your ear -- a sensitive seismometer that will listen for distant rumblings -- onto the surface of Mars.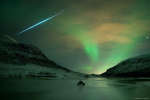 Aurora Shimmer, Meteor Flash
9.12.2018
Some night skies are serene and passive -- others shimmer and flash. The later, in the form of auroras and meteors, haunted skies over the island of Kvaløya, near Tromsø Norway on 2009 December 13. This 30 second long exposure records a shimmering auroral glow gently lighting the wintery coastal scene.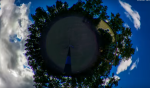 Tiny Planet Timelapse
8.12.2018
You can pack a lot of sky watching into 30 seconds on this tiny planet. Of course, the full spherical image timelapse video was recorded on planet Earth, from Grande Pines Observatory outside Pinehurst, North Carolina.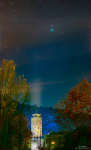 December s Comet Wirtanen
7.12.2018
Coming close in mid-December, Comet 46P Wirtanen hangs in this starry sky over the bell tower of a Romanesque church. In the constructed vertical panorama, a series of digital exposures capture its greenish coma on December 3 from Sant Llorenc de la Muga, Girona, Catalonia, Spain, planet Earth.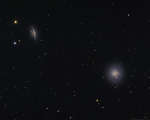 Cetus Galaxies and Supernova
6.12.2018
Large spiral galaxy NGC 1055 at top left joins spiral Messier 77 (bottom right) in this cosmic view toward the aquatic constellation Cetus. The narrowed, dusty appearance of edge-on spiral NGC 1055 contrasts nicely with the face-on view of M77's bright nucleus and spiral arms.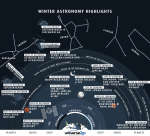 Highlights of the North Winter Sky
5.12.2018
What can you see in the night sky this season? The featured graphic gives a few highlights for Earth's northern hemisphere. Viewed as a clock face centered at the bottom, early (northern) winter sky events fan out toward the left, while late winter events are projected toward the right.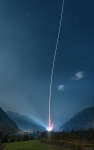 Rocket Launch between Mountains
4.12.2018
What's happening between those mountains? A rocket is being launched to space. Specifically, a Long March 3B Carrier Rocket was launched from Xichang Satellite Launch Center in Sichuan Province in China about two week ago.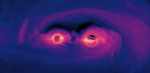 Spiraling Supermassive Black Holes
3.12.2018
Do black holes glow when they collide? When merging, co-orbiting black holes are sure to emit a burst of unusual gravitational radiation, but will they emit light, well before that, if they are surrounded by gas? To help find out, astrophysicists created a sophisticated computer simulation.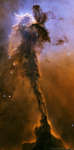 The Fairy of Eagle Nebula
2.12.2018
The dust sculptures of the Eagle Nebula are evaporating. As powerful starlight whittles away these cool cosmic mountains, the statuesque pillars that remain might be imagined as mythical beasts. Featured here is one of several striking dust pillars of the Eagle Nebula that might be described as a gigantic alien fairy.