Astronomy Picture Of the Day (APOD)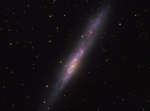 Irregular Galaxy NGC 55
21.09.2018
Irregular galaxy NGC 55 is thought to be similar to the Large Magellanic Cloud (LMC). But while the LMC is about 180,000 light-years away and is a well known satellite of our own Milky Way Galaxy, NGC 55 is more like 6 million light-years distant and is a member of the Sculptor Galaxy Group.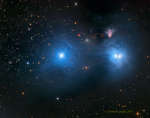 Stars and Dust in Corona Australis
20.09.2018
Cosmic dust clouds and young, energetic stars inhabit this telescopic vista, less than 500 light-years away toward the northern boundary of Corona Australis, the Southern Crown. The dust clouds effectively block light from more distant background stars in the Milky Way.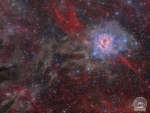 Cocoon Nebula Deep Field
19.09.2018
Inside the Cocoon Nebula is a newly developing cluster of stars. The cosmic Cocoon on the upper right also punctuates a long trail of obscuring interstellar dust clouds to its left. Cataloged...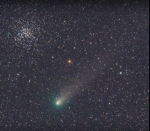 Salt Pepper and Ice
18.09.2018
There's a "camera" comet now moving across the sky. Just a bit too dim to see with the unaided eye, Comet 21P / Giacobini-Zinner has developed a long tail that makes it a good sight for binoculars and sensitive cameras.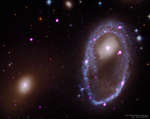 Cosmic Collision Forges Galactic Ring
17.09.2018
How could a galaxy become shaped like a ring? The rim of the blue galaxy pictured on the right is an immense ring-like structure 150,000 light years in diameter composed of newly formed, extremely bright, massive stars.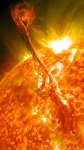 A Solar Filament Erupts
16.09.2018
What's happened to our Sun? Nothing very unusual -- it just threw a filament. Toward the middle of 2012, a long standing solar filament suddenly erupted into space producing an energetic Coronal Mass Ejection (CME).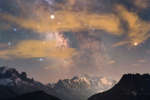 Mont Blanc, Meteor, and Milky Way
15.09.2018
Snowy Mont Blanc is near the center of this atmospheric night skyscape. But high, thin clouds fogged the skies at the photographer's location, looking south toward Europe's highest peak from the southern Swiss Alps.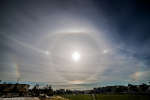 Ice Halos at Yellowknife
14.09.2018
You've probably seen a circle around the Sun before. More common than rainbows, ice halos, like a 22 degree circular halo for example, can be easy to spot, especially if you can shade your eyes from direct sunlight.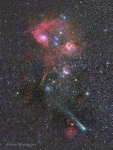 Comet, Clusters, and Nebulae
13.09.2018
Bright enough for binocular viewing Comet 21P / Giacobini-Zinner stands out, even in this deep telephoto mosaic of the star cluster and nebula rich constellation Auriga the Charioteer. On the night of September...

Lunations
12.09.2018
Our Moon's appearance changes nightly. As the Moon orbits the Earth, the half illuminated by the Sun first becomes increasingly visible, then decreasingly visible. The featured video animates images taken by NASA's Moon-orbiting Lunar Reconnaissance Orbiter to show all 12 lunations that appear this year, 2018.