Astronomy Picture Of the Day (APOD)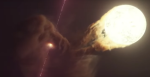 APOD: 2020 August 31 Б SS 433: Binary Star Micro Quasar
31.08.2020
SS 433 is one of the most exotic star systems known. Its unremarkable name stems from its inclusion in a catalog of Milky Way stars which emit radiation characteristic of atomic hydrogen. Its remarkable behavior stems from a compact object, a black hole or neutron star, which has produced an accretion disk with jets.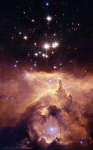 NGC 6357: Cathedral to Massive Stars
30.08.2020
How massive can a normal star be? Estimates made from distance, brightness and standard solar models had given one star in the open cluster Pismis 24 over 200 times the mass of our Sun, making it one of the most massive stars known.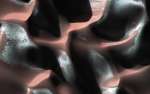 Martian Chiaroscuro
29.08.2020
Deep shadows create dramatic contrasts between light and dark in this high-resolution close-up of the martian surface. Recorded on January 24, 2014 by the HiRISE camera on board the Mars Reconnaissance Orbiter, the scene spans about 1.5 kilometers.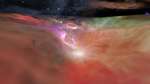 The Valley of Orion
28.08.2020
This exciting and unfamiliar view of the Orion Nebula is a visualization based on astronomical data and movie rendering techniques. Up close and personal with a famous stellar nursery normally seen from...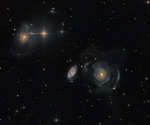 Shell Galaxies in Pisces
27.08.2020
This intergalactic skyscape features a peculiar system of galaxies cataloged as Arp 227 some 100 million light-years distant. Swimming within the boundaries of the constellation Pisces, Arp 227 consists of the two galaxies prominent right of center, the curious shell galaxy NGC 474 and its blue, spiral-armed neighbor NGC 470.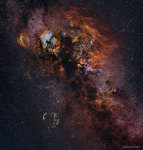 APOD: 2020 August 26 Б Cygnus Skyscape
26.08.2020
In brush strokes of interstellar dust and glowing hydrogen gas, this beautiful skyscape is painted across the plane of our Milky Way Galaxy near the northern end of the Great Rift and the constellation Cygnus the Swan.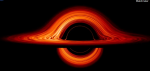 APOD: 2020 August 25 Б Visualization: A Black Hole Accretion Disk
25.08.2020
What would it look like to circle a black hole? If the black hole was surrounded by a swirling disk of glowing and accreting gas, then the great gravity of the black hole would deflect light emitted by the disk to make it look very unusual. The featured animated video gives a visualization.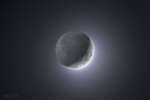 APOD: 2020 August 24 Б Crescent Moon HDR
24.08.2020
How come the crescent Moon doesn't look like this? For one reason, because your eyes can't simultaneously discern bright and dark regions like this. Called earthshine or the da Vinci glow...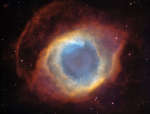 The Helix Nebula from Blanco and Hubble
23.08.2020
How did a star create the Helix nebula? The shapes of planetary nebula like the Helix are important because they likely hold clues to how stars like the Sun end their lives. Observations...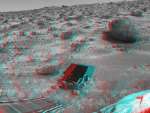 Yogi And Friends in 3D
22.08.2020
From July of 1997, a ramp from the Pathfinder lander, the Sojourner robot rover, airbags, a couch, Barnacle Bill and Yogi Rock appear together in this 3D stereo view of the surface of Mars. Barnacle Bill is the rock just left of the solar-paneled Sojourner. Yogi is the big friendly-looking boulder at top right.