Astronomy Picture Of the Day (APOD)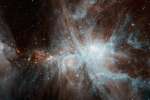 Spitzer's Orion
31.08.2019
Few cosmic vistas excite the imagination like the Orion Nebula, an immense stellar nursery some 1,500 light-years away. Spanning about 40 light-years across the region, this infrared image from the Spitzer Space Telescope...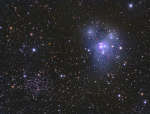 NGC 7129 and NGC 7142
30.08.2019
This wide-field telescopic image looks toward the constellation Cepheus and an intriguing visual pairing of dusty reflection nebula NGC 7129 (right) and open star cluster NGC 7142. The two appear separated by only half a degree on the sky, but they actually lie at quite different distances.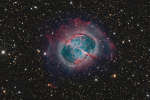 M27: Not a Comet
29.08.2019
While hunting for comets in the skies above 18th century France, astronomer Charles Messier diligently kept a list of the things he encountered that were definitely not comets. This is number 27 on his now famous not-a-comet list.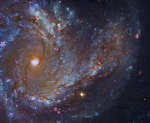 Messier 61 Close Up
28.08.2019
Image data from the Hubble Space Telescope, the European Southern Observatory, and small telescopes on planet Earth are combined in this magnificent portrait of face-on spiral galaxy Messier 61 (M61). A mere 55 million light-years away in the Virgo Cluster of Galaxies, M61 is also known as NGC 4303.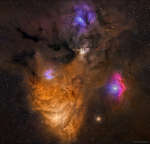 Dark Dust and Colorful Clouds near Antares
27.08.2019
Why is the sky near Antares and Rho Ophiuchi so dusty yet colorful? The colors result from a mixture of objects and processes. Fine dust illuminated from the front by starlight produces blue reflection nebulae. Gaseous clouds whose atoms are excited by ultraviolet starlight produce reddish emission nebulae.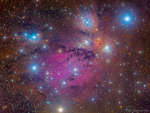 NGC 2170: Angel Nebula Still Life
26.08.2019
Is this a painting or a photograph? In this classic celestial still life composed with a cosmic brush, dusty nebula NGC 2170, also known as the Angel Nebula, shines near the image center. Reflecting...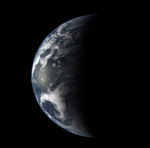 Leaving Earth
25.08.2019
What it would look like to leave planet Earth? Such an event was recorded visually in great detail by the MESSENGER spacecraft as it swung back past the Earth, eight years ago, on its way in toward the planet Mercury. Earth can be seen rotating in this time-lapse video, as it recedes into the distance.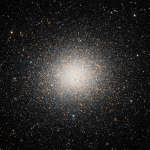 Millions of Stars in Omega Centauri
24.08.2019
Globular star cluster Omega Centauri, also known as NGC 5139, is some 15,000 light-years away. The cluster is packed with about 10 million stars much older than the Sun within a volume about 150 light-years in diameter.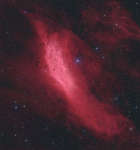 NGC 1499: The California Nebula
23.08.2019
Drifting through the Orion Arm of the spiral Milky Way Galaxy, this cosmic cloud by chance echoes the outline of California on the west coast of the United States. Our own Sun also lies within the Milky Way's Orion Arm, only about 1,500 light-years from the California Nebula.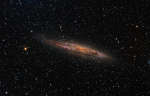 Nearby Spiral Galaxy NGC 4945
22.08.2019
Large spiral galaxy NGC 4945 is seen edge-on near the center of this cosmic galaxy portrait. In fact, it's almost the size of our Milky Way Galaxy. NGC 4945's own dusty disk, young blue star clusters, and pink star forming regions standout in the sharp, colorful telescopic image.