Astronomy Picture Of the Day (APOD)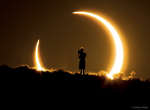 Annular Solar Eclipse over New Mexico
31.08.2016
What is this person doing? In 2012 an annular eclipse of the Sun was visible over a narrow path that crossed the northern Pacific Ocean and several western US states. In an annular solar...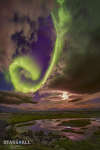 Aurora over Icelandic Fault
30.08.2016
Admire the beauty but fear the beast. The beauty is the aurora overhead, here taking the form of great green spiral, seen between picturesque clouds with the bright Moon to the side and stars in the background. The beast is the wave of charged particles that creates the aurora but might, one day, impair civilization.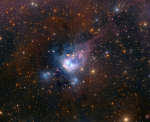 Young Suns of NGC 7129
29.08.2016
Young suns still lie within dusty NGC 7129, some 3,000 light-years away toward the royal constellation Cepheus. While these stars are at a relatively tender age, only a few million years old, it is likely that our own Sun formed in a similar stellar nursery some five billion years ago.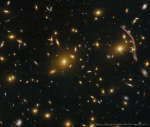 Abell 370: Galaxy Cluster Gravitational Lens
28.08.2016
What is that strange arc? While imaging the cluster of galaxies Abell 370, astronomers had noted an unusual arc to the right of many cluster galaxies. Although curious, one initial response was to avoid commenting on the arc because nothing like it had ever been noted before.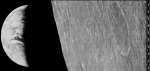 Lunar Orbiter Earthset
27.08.2016
August 10th was the 50th anniversary of the launch of Lunar Orbiter 1. It was the first of five Lunar Orbiters intended to photograph the Moon's surface to aid in the selection of future landing sites.

The Milky Way Sets
26.08.2016
Under dark skies the setting of the Milky Way can be a dramatic sight. Stretching nearly parallel to the horizon, this rich, edge-on vista of our galaxy above the dusty Namibian desert stretches from bright, southern Centaurus (left) to Cepheus in the north (right).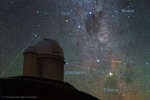 Closest Star has Potentially Habitable Planet
25.08.2016
The star closest to the Sun has a planet similar to the Earth. As announced yesterday, recent observations confirmed that this planet not only exists but inhabits a zone where its surface temperature could allow liquid water, a key ingredient for life on Earth.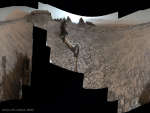 Curiosity at Murray Buttes on Mars
24.08.2016
What are these unusual lumps on Mars? As NASA's robotic Curiosity rover continues rolling across Mars, it is now approaching Murray Buttes. Several of the 15-meter high buttes are visible ahead in this horizontally compressed 360-degree across image taken inside Gale Crater earlier this month.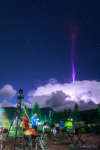 Gigantic Jet Lightning over China
23.08.2016
That's no meteor. While watching and photographing this year's Perseid Meteor Shower, something unexpected happened: a gigantic jet erupted from a nearby cloud. The whole thing was over in a flash -- it lasted less than a second -- but was fortunately captured by an already-recording digital camera.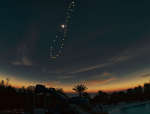 Tutulemma: Solar Eclipse Analemma
22.08.2016
If you went outside at exactly the same time every day and took a picture that included the Sun, how would the Sun's position change? With great planning and effort, such a series of images can be taken. The figure-8 path the Sun follows over the course of a year is called an analemma.