Astronomy Picture Of the Day (APOD)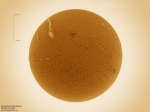 Across the Sun
30.04.2015
A long solar filament stretches across the relatively calm surface of the Sun in this telescopic snap shot from April 27. The negative or inverted narrowband image was made in the light of ionized hydrogen atoms.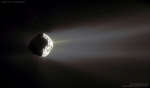 Comet Churyumov Gerasimenko in Crescent
29.04.2015
What's happening to Comet 67P/ChuryumovGerasimenko? As the 3-km wide comet moves closer to the Sun, heat causes the nucleus to expel gas and dust. The Rosetta spacecraft arrived at the comet's craggily double nucleus last July and now is co-orbiting the Sun with the giant dark iceberg.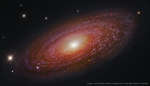 Massive Nearby Spiral Galaxy NGC 2841
28.04.2015
It is one of the more massive galaxies known. A mere 46 million light-years distant, spiral galaxy NGC 2841 can be found in the northern constellation of Ursa Major. This sharp view of the gorgeous island universe shows off a striking yellow nucleus and galactic disk.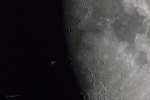 Space Station over Lunar Terminator
27.04.2015
What's that in front of the Moon? It's the International Space Station. Using precise timing, the Earth-orbiting space platform was photographed in front of a partially lit Moon last year. The featured image was taken from Madrid, Spain with an exposure time of only 1/1000 of a second.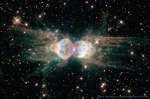 Planetary Nebula Mz3: The Ant Nebula
26.04.2015
Why isn't this ant a big sphere? Planetary nebula Mz3 is being cast off by a star similar to our Sun that is, surely, round. Why then would the gas that is streaming away create an ant-shaped nebula that is distinctly not round?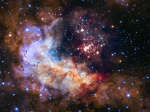 Cluster and Starforming Region Westerlund 2
25.04.2015
Located 20,000 light-years away in the constellation Carina, the young cluster and starforming region Westerlund 2 fills this cosmic scene. Captured with Hubble's cameras in near-infrared and visible light, the stunning image is a celebration of the 25th anniversary of the launch of the Hubble Space Telescope on April 24, 1990.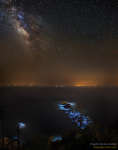 Blue Tears and the Milky Way
24.04.2015
Lapping at rocks along the shore of the Island of Nangan, Taiwan, planet Earth, waves are infused with a subtle blue light in this sea and night skyscape. Composed of a series of long exposures made on April 16 the image captures the faint glow from Noctiluca scintillans.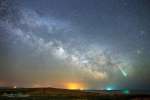 Meteor in the Milky Way
23.04.2015
Earth's April showers include the Lyrid Meteor Shower, observed for more than 2,000 years when the planet makes its annual passage through the dust stream of long-period Comet Thatcher. A grain...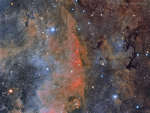 Colorful Star Clouds in Cygnus
22.04.2015
Stars can form in colorful surroundings. Featured here is a star forming region rich in glowing gas and dark dust toward the constellation of the Swan (Cygnus), near the bright star Sadr. This region, which spans about 50 light years, is part of the Gamma Cygni nebula which lies about 1,800 light years distant.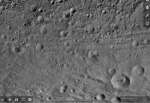 Vesta Trek: A Digital Model of Asteroid Vesta
21.04.2015
You can explore asteroid Vesta. Recently, NASA's robotic spaceship Dawn visited Vesta, the second largest object in our Solar System's main asteroid belt, which lies between Mars and Jupiter. During a year-long stopover, Dawn's cameras photographed Vesta's entire surface, documenting all of the minor planet's major mountains and craters.