Astronomy Picture Of the Day (APOD)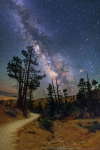 The Milky Trail
1.06.2013
Have you ever hiked the Queen's Garden trail in Bryce Canyon, Utah, USA, planet Earth? Walking along that path in this dark night skyscape, you can almost imagine your journey continues along the pale, luminous Milky Way.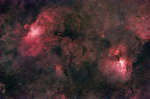 The Eagle and The Swan
31.05.2013
The Eagle Nebula and the Swan Nebula span this broad starscape, a telescopic view of the Sagittarius spiral arm toward the center of our Milky Way galaxy. The Eagle, also known as M16, is left, above center, and the Swan, or M17 at the lower right.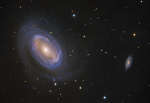 One Armed Spiral Galaxy NGC 4725
30.05.2013
While most spiral galaxies, including our own Milky Way, have two or more spiral arms, NGC 4725 has only one. In this sharp color composite image, the solo spira mirabilis seems to wind from a prominent ring of bluish, newborn star clusters and red tinted star forming regions.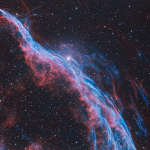 NGC 6960: The Witch s Broom Nebula
29.05.2013
Ten thousand years ago, before the dawn of recorded human history, a new light would have suddenly have appeared in the night sky and faded after a few weeks. Today we know this light was from a supernova, or exploding star, and record the expanding debris cloud as the Veil Nebula, a supernova remnant.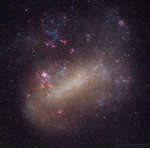 The Large Cloud of Magellan
28.05.2013
The 16th century Portuguese navigator Ferdinand Magellan and his crew had plenty of time to study the southern sky during the first circumnavigation of planet Earth. As a result, two fuzzy cloud-like objects easily...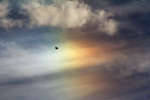 Bird Sun Dog
27.05.2013
Have you ever seen a little rainbow off to the side of the Sun? Rare but rewarding to see, such spectacles are known as sundogs, mock suns or parhelia. Sundogs are just sunlight refracting through hexagonal falling ice crystals in the Earth's atmosphere.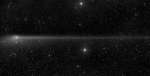 PanSTARRS Anti Tail Grows
26.05.2013
As planet Earth approached the plane of the Comet PanSTARRS (C/2011 L4) orbit on May 23rd, comet watchers were treated to this view of its magnificent anti-tail. The long, narrow anti-tail stretches to the right across this frame for nearly 4 degrees or about 8 times the angular size of the full Moon.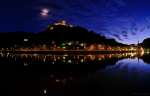 Lunar Corona over Cochem Castle
25.05.2013
This bat-like apparition does not shine on clouds passing over Gotham city. Instead, the cloud bank in silhouette against a colorful lunar corona was spotted on the evening of May 18 over Cochem, Germany from the banks of the river Mossele.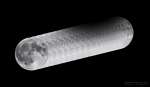 Caterpillar Moon
24.05.2013
A close series of consecutive exposures are combined in this intriguing composite of the Full Moon slowly crawling, across the sky. Beginning on the upper right at 19:42 UT and ending...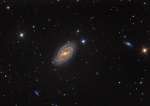 Messier 109
23.05.2013
Beautiful barred spiral galaxy M109, 109th entry in Charles Messier's famous catalog of bright Nebulae and Star Clusters, is found just below the Big Dipper's bowl in the northern constellation Ursa Major.