Astronomy Picture Of the Day (APOD)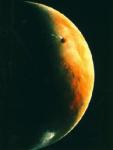 Barsoom
31.03.2001
"Yes, I have been to Barsoom again ..." begins John Carter in Edgar Rice Burroughs' 1913 science fiction classic "The Gods of Mars". In Burroughs' novels describing Carter's adventures on Mars, "Barsoom" is the local inhabitants' name for the Red Planet. Long after Burroughs' stories were published, Mars continues to inspire Earthdwellers' interests and imagination.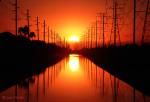 Equinox 1
30.03.2001
Twice a year, at the Spring and Fall equinox, the Sun rises due east. In an emphatic demonstration of this celestial alignment, photographer Joe Orman recorded this inspiring image of the Sun rising exactly along the east-west oriented Western Canal, in Tempe, Arizona, USA.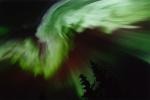 Aurora Alaskan Style
29.03.2001
Have you checked the space weather report lately? With a coronal mass ejection (CME) headed our way and an immense sunspot group tracking across the solar photosphere, skygazers should be on the alert.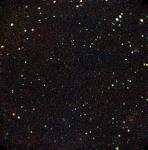 Chandra Deep Field
28.03.2001
Officially the Chandra Deep Field - South, this picture represents the deepest ever x-ray image of the Universe. One million seconds of accumulated exposure time with the orbiting Chandra X-ray Observatory went in to its making.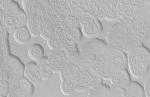 Swiss Cheese Like Landscape on Mars
27.03.2001
Why do parts of the south pole of Mars look like swiss cheese? This little-understood landscape features flat-topped mesas nearly 4 meters high and circular indentations over 100 meters across. Since this swiss-cheese topography...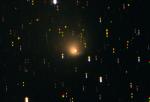 Comet Hale Bopp in the Outer Solar System
26.03.2001
Whatever became of Comet Hale-Bopp? The brightest comet in recent years has continued into the outer Solar System and is now further from the Sun than Saturn. To the surprise of many, Comet Hale-Bopp is still active, continuing to spew gas, ice and dust particles out into space.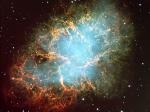 The Crab Nebula from VLT
25.03.2001
The Crab Nebula, filled with mysterious filaments, is the result of a star that was seen to explode in 1054 AD. This spectacular supernova explosion was recorded by Chinese and (quite probably) Anasazi Indian astronomers.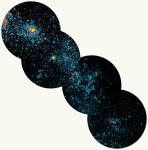 The UV SMC from UIT
24.03.2001
Translated from the "acronese" the title reads - The UltraViolet Small Magellanic Cloud from the Ultraviolet Imaging Telescope. FYI, the four ultraviolet images used in this mosaic of the nearby irregular galaxy known...
Mir Flares Farewell
23.03.2001
Streaking low across the western horizon after sunset, the Russian Mir space station makes a final pass through the evening sky above the coastal city of Salvador, Brazil. In this 5 minute 20 second time exposure made with ASA 800 film and a wide-angle lens on March 19, setting stars leave short, almost vertical trails.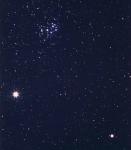 Jupiter, Saturn and Messier 45
22.03.2001
Brilliant Venus falls out of the evening sky as March ends, but Jupiter and Saturn remain well up above the western horizon. Jupiter blazes forth above and to the left of a slightly fainter Saturn in this telephoto picture taken on January 19th.