Astronomy Picture Of the Day (APOD)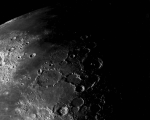 A Violet Moon
31.07.1996
Checking out the Galileo spacecraft's cameras during its December 1992 flyby of Earth's Moon, controllers took this dramatically illuminated picture through a violet filter. The view looks down on the Moon...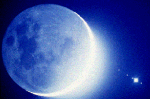 Tonight: A Blue Moon
30.07.1996
How often does a Full Moon occur twice in a single month? Exactly once in a Blue Moon. In fact, the modern usage of the term "Blue Moon" refers to the second Full Moon in a single month. Tonight's Blue Moon (Universal Time) will be the first since September 1993.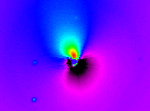 A Dust Jet From Hale-Bopp
29.07.1996
Approaching the inner Solar System, comet Hale-Bopp's icy nucleus is heated by sunlight, accelerating its production of dust and gas. Shrouded in the resulting cloud, known as the coma, the cometary nucleus remains hidden from direct view.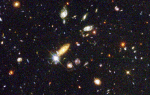 Huck Finn's New Sky View
28.07.1996
Huck Finn's New Sky View Credit : R. Williams, The HDF Team (STScI), NASA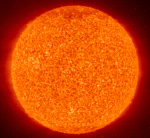 Driving to the Sun
27.07.1996
How long would it take to drive to the Sun? Brittany, age 7, and D.J., age 12, ponder this question over dinner one evening. James, also age 7, suggests taking a really fast racing car while Christopher, age 4, eagerly agrees.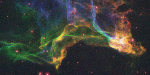 The Cygnus Loop
26.07.1996
15,000 years ago a star in the constellation of Cygnus exploded -- the shockwave from this supernova explosion is still expanding into interstellar space! The collision of this fast moving wall of gas with...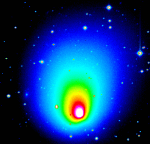 Hale-Bopp on Schedule
25.07.1996
Late March and early April of 1996 marked a banner season for viewing the spectacular naked-eye comet Hyakutake. The spring of 1997 could well offer a similar cometary wonder, Comet Hale-Bopp. Discovered last year while approaching the inner solar sytem Hale-Bopp has been eagerly watched for signs that it will indeed brighten spectacularly.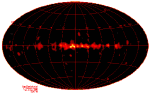 COMPTEL Explores The Radioactive Sky
24.07.1996
Diffuse gas clouds laced with radioactive aluminum atoms (Al26) line the plane of our Milky Way Galaxy! How do we see them? Relying on the Compton Effect, the COMPTEL instrument onboard NASA's immense orbiting Compton Gamma Ray Observatory can "see" the 1.8 million electron Volt gamma rays emitted by the radioactive decay.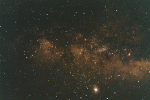 Hale-Bopp, Jupiter, and the Milky Way
23.07.1996
Shining brightly, the mighty Jupiter rules this gorgeous Kodacolor photo of the Milky Way near Sagittarius. Astronomer Bill Keel took the picture earlier this month (July 7) while standing near the summit of Hawaii's Mauna Kea contemplating the sky in the direction of the center of the Galaxy (right of picture center).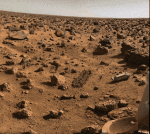 Utopia on Mars
22.07.1996
The Viking 2 spacecraft was launched on the Road to Utopia in September of 1975 (30 years after Bing, Dotty, and Bob). In August of 1976, after making the second successful Martian landing, Viking...