Astronomy Picture Of the Day (APOD)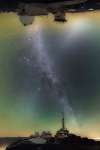 Crossing Horizons
24.11.2017
Follow this vertical panoramic view from horizon to horizon and your gaze will sweep through the zenith of a dark night sky over Pic du Midi mountaintop observatory. To make the journey above...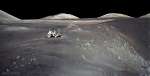 Apollo 17 at Shorty Crater
23.11.2017
In December of 1972, Apollo 17 astronauts Eugene Cernan and Harrison Schmitt spent about 75 hours on the Moon in the Taurus-Littrow valley, while colleague Ronald Evans orbited overhead. This sharp image was taken by Cernan as he and Schmitt roamed the valley floor.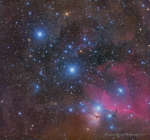 Alnitak, Alnilam, Mintaka
22.11.2017
Alnitak, Alnilam, and Mintaka, are the bright bluish stars from east to west (lower right to upper left) along the diagonal in this cosmic vista. Otherwise known as the Belt of Orion, these three blue supergiant stars are hotter and much more massive than the Sun.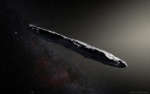 APOD: 2017 November 22 Oumuamua: Interstellar Asteroid
21.11.2017
Nothing like it has ever been seen before. The unusual space rock 'Oumuamua is so intriguing mainly because it is the first asteroid ever detected from outside our Solar System -- although likely many more are to follow given modern computer-driven sky monitoring.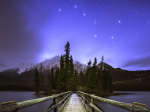 Big Dipper over Pyramid Mountain
20.11.2017
When did you first learn to identify this group of stars? Although they are familiar to many people around the world, different cultures have associated this asterism with different icons and folklore. Known...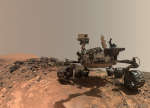 Curiosity Rover Takes Selfie on Mars
19.11.2017
Yes, but have you ever taken a selfie on Mars? The Curiosity rover on Mars has. This selfie was compiled from many smaller images -- which is why the mechanical arm holding the camera is not visible.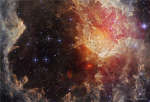 NGC 7822: Stars and Dust Pillars in Infrared
18.11.2017
Young stars themselves are clearing out their nursery in NGC 7822. Within the nebula, bright edges and complex dust sculptures dominate this detailed skyscape taken in infrared light by NASA's Wide Field Infrared Survey Explorer (WISE) satellite.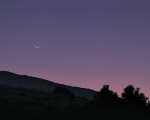 Friday the Moon Smiled
17.11.2017
Friday, an old Moon smiled for early morning risers. Its waning sunlit crescent is captured in this atmospheric scene from clear skies near Bursa, Turkey, planet Earth. In the subtle twilight hues nearby celestial lights are Jupiter (top) and Venus shining close to the eastern horizon.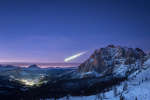 Major Fireball Meteor
16.11.2017
The sky glows with soft pinkish colors of fading twilight in this serendipitous mountaintop vista. Taken in subfreezing temperatures, the thoughtfully composed photo shows snowy, rugged peaks seen from a mountain pass on November 14. Below lies the village of La Villa, Alta Badia in Italy's Dolomite Alps.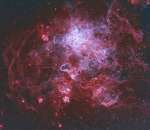 The Tarantula Nebula
15.11.2017
The Tarantula Nebula is more than a thousand light-years in diameter, a giant star forming region within nearby satellite galaxy the Large Magellanic Cloud, about 180 thousand light-years away. The largest, most violent star...