Astronomy Picture Of the Day (APOD)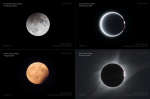 All the Eclipses of 2017
7.12.2017
As seen from planet Earth, all the lunar and solar eclipses of 2017 are represented at the same scale in these four panels. The year's celestial shadow play was followed through four different countries by one adventurous eclipse chaser.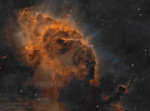 HH 666: Carina Dust Pillar with Jet
6.12.2017
To some, it may look like a beehive harboring an evil bee. In reality, the featured Hubble image captures a cosmic pillar of dust, two-light years long, inside of which is Herbig-Haro 666 -- a young star emitting powerful jets.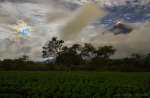 A Horizon with Blue and Red
5.12.2017
What's happening on the horizon? The horizon itself, past a spinach field in Guatemala, shows not only trees but a large volcano: the VolcАn de Fuego (Volcano of Fire). The red glow at the top of the volcano is hot lava.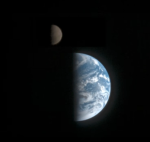 Earth and Moon
4.12.2017
On rare occasions, the Earth and Moon are photographed together. One of most spectacular times this occurred was 25 years ago this month when the Jupiter-bound Galileo spacecraft zoomed past our home planetary system. Then, robotic Galileo watched from about 15-times the Earth-Moon separation as our only natural satellite glided past our home world.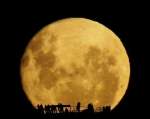 Full Moon Silhouettes
3.12.2017
Have you ever watched the Moon rise? The slow rise of a nearly full moon over a clear horizon can be an impressive sight. One impressive moonrise was imaged in early 2013 over Mount Victoria Lookout in Wellington, New Zealand.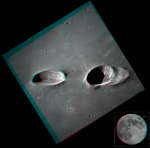 Messier Craters in Stereo
2.12.2017
Many bright nebulae and star clusters in planet Earth's sky are associated with the name of astronomer Charles Messier, from his famous 18th century catalog. His name is also given to these two large and remarkable craters on the Moon.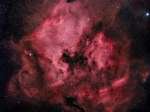 North America and the Pelican
1.12.2017
Fans of our fair planet might recognize the outlines of these cosmic clouds. On the left, bright emission outlined by dark, obscuring dust lanes seems to trace a continental shape, lending the popular name North America Nebula to the emission region cataloged as NGC 7000.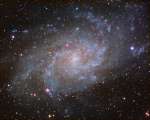 M33: Triangulum Galaxy
30.11.2017
The small, northern constellation Triangulum harbors this magnificent face-on spiral galaxy, M33. Its popular names include the Pinwheel Galaxy or just the Triangulum Galaxy. M33 is over 50,000 light-years in diameter, third largest in the Local Group of galaxies after the Andromeda Galaxy (M31), and our own Milky Way.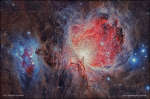 M42: The Great Orion Nebula
29.11.2017
Few astronomical sights excite the imagination like the nearby stellar nursery known as the Orion Nebula. The Nebula's glowing gas surrounds hot young stars at the edge of an immense interstellar molecular cloud.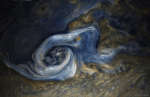 Juno Spots a Complex Storm on Jupiter
28.11.2017
Some storms on Jupiter are quite complex. The swirling storm was captured late last month by the NASA's robotic Juno spacecraft currently orbiting the Solar System's largest planet. The featured image spans about 30,000 kilometers, making this storm system just about as wide as planet Earth.