Astronomy Picture Of the Day (APOD)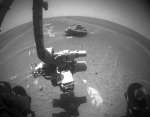 Block Island Meteorite on Mars
13.08.2009
What is this strange rock on Mars? Sitting on a smooth plane, the rock stands out for its isolation, odd shape, large size and unusual texture. The rock was discovered by the robotic Opportunity rover rolling across Mars late last month. Pictured above, Opportunity prepares to inspect the unusual rock.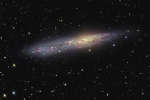 Irregular Galaxy NGC 55
12.08.2009
Irregular galaxy NGC 55 is thought to be similar to the Large Magellanic Cloud (LMC). But while the LMC is about 180,000 light-years away and is a well known satellite of our own Milky Way Galaxy, NGC 55 is more like 6 million light-years distant and is a member of the Sculptor Galaxy Group.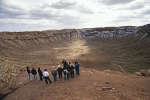 Inside Barringer Meteor Crater
11.08.2009
What happens when a meteor hits the ground? Usually nothing much, as most meteors are small, and indentations they make are soon eroded away. About 50,000 years ago, however, a large meteor created Barringer Meteor Crater in Arizona, USA. Also known simply as Meteor Crater, the resulting impact basin spans over a kilometer.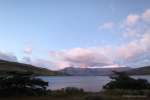 Moonbow and Rainbows Over Patagonia
10.08.2009
Have you ever seen a moonbow? Just as rainbows are lit by the Sun, moonbows are lit by the Moon. Since the Sun is so much brighter than the Moon, sunlit rainbows are much brighter and more commonly seen than moonbows.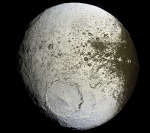 Saturns Iapetus: Painted Moon
9.08.2009
What has happened to Saturn's moon Iapetus? Vast sections of this strange world are dark as coal, while others are as bright as ice. The composition of the dark material is unknown, but infrared spectra indicate that it possibly contains some dark form of carbon.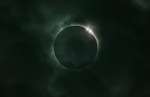 Diamonds in a Cloudy Sky
8.08.2009
Cloudy skies over Wuhan, China hid the delicate solar corona during July's total eclipse of the Sun. Still, the Moon's silhouette was highlighted by these glistening diamonds as the total eclipse phase ended.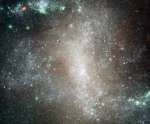 The Star Clusters of NGC 1313
7.08.2009
Like grains of sand on a cosmic beach, individual stars of barred spiral galaxy NGC 1313 are resolved in this sharp composite from the Hubble Space Telescope's Advanced Camera for Surveys (ACS). The inner region of the galaxy is pictured, spanning about 10,000 light-years.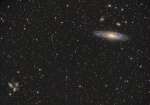 Galaxies in Pegasus
6.08.2009
This wide, sharp telescopic view reveals galaxies scattered beyond the stars at the northern boundary of the high-flying constellation Pegasus. Prominent at the upper right is NGC 7331. A mere 50 million light-years away, the large spiral is one of the brighter galaxies not included in Charles Messier's famous 18th century catalog.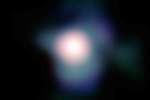 Betelgeuse Resolved
5.08.2009
The sharpest image ever of Betelgeuse shows a mammoth star that is slowly evaporating. Betelgeuse (sounds a lot like "beetle juice"), also known as Alpha Orionis, is one of the largest and brightest stars known. The star is a familiar orange fixture easily visible to the unaided eye toward the constellation of Orion.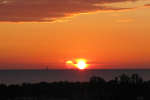 A Triple Sunrise Over Gdansk Bay
4.08.2009
How can the same Sun rise three times? Last month on Friday, 2009 July 10, a spectacular triple sunrise was photographed at about 4:30 am over Gdansk Bay in Gdansk, Poland. Clearly, our Sun rises only once. Some optical effect is creating at least two mirages of the Sun -- but which effect?