Astronomy Picture Of the Day (APOD)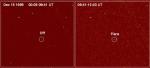 LP 944-20: A Failed Star Flares
13.07.2000
The tiny spot circled on the right actually represents a big astronomical discovery -- the first detected flare from a failed star. Failed stars, termed brown dwarfs in astronomers' parlance, are too low in mass to ignite nuclear hydrogen burning in their cores, yet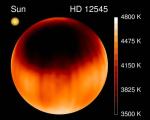 A Giant Starspot on HD 12545
12.07.2000
What could cause a star to have such a large spot? Our Sun itself frequently has sunspots, relatively cool dark magnetic depressions that move across its surface. HD 12545, however, exhibits the largest starspots yet observed.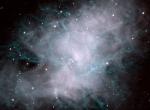 The Crab Nebula in Blue and White
11.07.2000
The Crab Nebula is a complex shell of expanding gas. The Crab Nebula formed from a star that was seen to explode in a supernova about 1000 years ago. This two color composite image taken with the WIYN 3.5-meter telescope shows in great detail filamentary structure of the glowing hydrogen gas.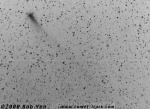 Comet LINEAR Extends
10.07.2000
Comet LINEAR's tail appears to be extending. Many sky watchers are closely following Comet C/1999 S4 LINEAR and wondering if it will develop an impressive tail or become visible to the naked eye later this month.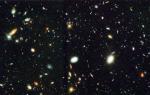 The Hubble Deep Field
9.07.2000
Galaxies like colorful pieces of candy fill the Hubble Deep Field - one of humanity's most distant optical views of the Universe. The dimmest, some as faint as 30th magnitude (about four billion times...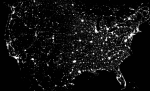 The United States At Night
8.07.2000
This is what the United States of America looks like at night! Can you find your favorite US city in this image? Surprisingly, city lights make this task quite possible. The above picture is actually a composite of over 200 images made by satellites orbiting planet Earth.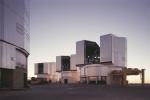 Sirius, Sun, Moon, and Southern Cross
7.07.2000
From left to right are the enclosures of Yepun (ye-poon; Sirius), Antu (an-too; Sun), Kueyen (qua-yen; Moon), and Melipal (me-li-pal; Southern Cross), pictured here as night falls at Paranal Observatory in northern Chile. These are the four 8.2 meter wide telescope units of the European Southern Observatory's Very Large Telescope (VLT).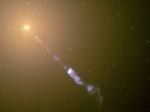 A Jet from Galaxy M87
6.07.2000
What's causing a huge jet to emanate from the center of galaxy M87? Although the unusual jet was first noticed early in the twentieth century, the exact cause is still debated. The above recently released picture taken by the Hubble Space Telescope shows clear details, however.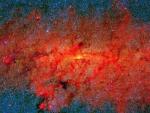 The Galactic Center Across the Infrared
5.07.2000
The center of our Galaxy is obscured in visible light by dark dust that rotates with the stars in the Galactic Plane. In this century, however, sensors have been developed that can detect light more red that humans can see - light called infrared.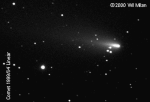 Comet LINEAR Approaches
4.07.2000
Just possibly, a new comet may become bright enough to see without binoculars later this month. Comet C/1999 S4 LINEAR is rapidly approaching both the Earth and the Sun from the outer Solar System, and should be at its brightest around 2000 July 25 in the early evening sky of northern observers.