Astronomy Picture Of the Day (APOD)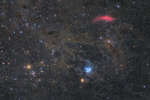 Mars in Taurus
4.03.2021
You can spot Mars in the evening sky tonight. Now home to the Perseverance rover, the Red Planet is presently wandering through the constellation Taurus, close on the sky to the Seven Sisters or Pleiades star cluster.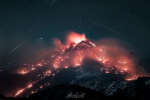 Stars over an Erupting Volcano
3.03.2021
Mt. Etna has been erupting for hundreds of thousands of years. Located in Sicily, Italy, the volcano produces lava fountains over one kilometer high. Mt. Etna is not only one of the most active...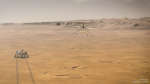 Ingenuity: A Mini Helicopter Now on Mars
2.03.2021
What if you could fly around Mars? NASA may have achieved that capability last month with the landing of Perseverance, a rover which included a small flight-worthy companion called Ingenuity, nicknamed Ginny. Even though...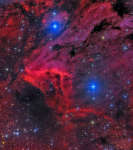 The Pelican Nebula in Red and Blue
1.03.2021
The Pelican Nebula is changing. The entire nebula, officially designated IC 5070, is divided from the larger North America Nebula by a molecular cloud filled with dark dust. The Pelican, however, is particularly interesting because it is an unusually active mix of star formation and evolving gas clouds.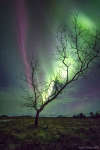 The Aurora Tree
28.02.2021
Yes, but can your tree do this? Pictured is a visual coincidence between the dark branches of a nearby tree and bright glow of a distant aurora. The beauty of the aurora -- combined with...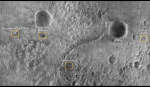 Perseverance Landing Site from Mars Reconnaissance Orbiter
27.02.2021
Seen from orbit a day after a dramatic arrival on the martian surface, the Perseverance landing site is identified in this high-resolution view from the Mars Reconnaissance Orbiter. The orbiter's camera image also...

Mars Perseverance Sol 3
26.02.2021
Stitched together on planet Earth, 142 separate images make up this 360 degree panorama from the floor of Jezero Crater on Mars. The high-resolution color images were taken by the Perseverance rover's zoomable Mastcam-Z during mission sol 3, also known as February 21, 2021.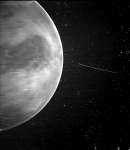 A Venus Flyby
25.02.2021
On a mission to explore the inner heliosphere and solar corona, on July 11, 2020 the Wide-field Imager on board NASA's Parker Solar Probe captured this stunning view of the nightside of Venus at distance of about 12,400 kilometers (7,693 miles).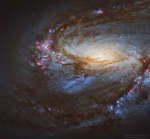 Spiral Galaxy M66 from Hubble
24.02.2021
ItБs always nice to get a new view of an old friend. This stunning Hubble Space Telescope image of nearby spiral galaxy M66 is just that. A spiral galaxy with a small central bar, M66 is a member of the Leo Galaxy Triplet, a group of three galaxies about 30 million light years from us.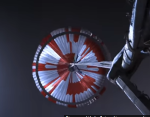 Video: Perseverance Landing on Mars
23.02.2021
What would it look like to land on Mars? To better monitor the instruments involved in the Entry, Decent, and Landing of the Perseverance Rover on Mars last week, cameras with video capability were included that have now returned their images.