Astronomy Picture Of the Day (APOD)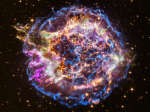 Recycling Cassiopeia A
23.01.2021
Massive stars in our Milky Way Galaxy live spectacular lives. Collapsing from vast cosmic clouds, their nuclear furnaces ignite and create heavy elements in their cores. After a few million years, the enriched material is blasted back into interstellar space where star formation can begin anew.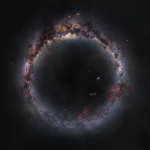 The Milky Ring
22.01.2021
An expanse of cosmic dust, stars and nebulae along the plane of our Milky Way galaxy form a beautiful ring in this projected all-sky view. The creative panorama covers the entire galaxy visible from planet Earth, an ambitious 360 degree mosaic that took two years to complete.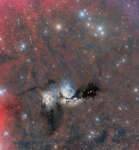 M78 Wide Field
21.01.2021
Interstellar dust clouds and glowing nebulae abound in the fertile constellation of Orion. One of the brightest, M78, is centered in this colorful, wide field view, covering an area north of Orion's belt. At a distance of about 1,500 light-years, the bluish reflection nebula is around 5 light-years across.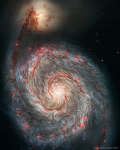 The Magnetic Field of the Whirlpool Galaxy
20.01.2021
Do magnetic fields always flow along spiral arms? Our face-on view of the Whirlpool Galaxy (M51) allows a spectacularly clear view of the spiral wave pattern in a disk-shaped galaxy. When observed with a radio telescope, the magnetic field appears to trace the arms' curvature.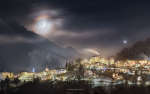 A Lunar Corona with Jupiter and Saturn
19.01.2021
Why does a cloudy moon sometimes appear colorful? The effect, called a lunar corona, is created by the quantum mechanical diffraction of light around individual, similarly-sized water droplets in an intervening but mostly-transparent cloud. Since light of different colors has different wavelengths, each color diffracts differently.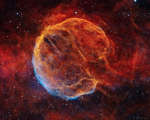 The Medulla Nebula Supernova Remnant
18.01.2021
What powers this unusual nebula? CTB-1 is the expanding gas shell that was left when a massive star toward the constellation of Cassiopeia exploded about 10,000 years ago. The star likely detonated when it ran out of elements, near its core, that could create stabilizing pressure with nuclear fusion.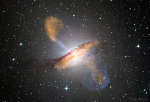 Jets from Unusual Galaxy Centaurus A
17.01.2021
The jets emanating from Centaurus A are over a million light years long. These jets of streaming plasma, expelled by a giant black hole in the center of this spiral galaxy, light up this composite image of Cen A. Exactly how the central black hole expels infalling matter remains unknown.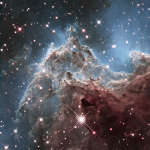 The Mountains of NGC 2174
16.01.2021
This fantastic skyscape lies near the edge of NGC 2174 a star forming region about 6,400 light-years away in the nebula-rich constellation of Orion. It follows mountainous clouds of gas and dust carved...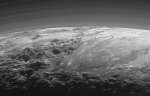 A Plutonian Landscape
15.01.2021
This shadowy landscape of majestic mountains and icy plains stretches toward the horizon on a small, distant world. It was captured from a range of about 18,000 kilometers when New Horizons looked back toward Pluto, 15 minutes after the spacecraft's closest approach on July 14.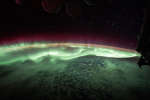 Aurora Slathers Up the Sky
14.01.2021
Like salsa verde on your favorite burrito, a green aurora slathers up the sky in this 2017 June 25 snapshot from the International Space Station. About 400 kilometers (250 miles) above Earth, the orbiting station is itself within the upper realm of the auroral displays.