Astronomy Picture Of the Day (APOD)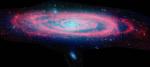 Infrared Andromeda
21.07.2007
This wide, detailed Spitzer Space Telescope view features infrared light from dust (red) and old stars (blue) in Andromeda, a massive spiral galaxy a mere 2.5 million light-years away. In fact, with over twice the diameter of our own Milky Way, Andromeda is the largest nearby galaxy.

Apollo 11: East Crater Panorama
20.07.2007
On July 20, 1969, Apollo 11 astronauts Neil Armstrong and Edwin "Buzz" Aldrin became the first to walk on the Moon. This panorama of their landing site sweeps across the magnificent desolation of the Moon's Sea of Tranquility, with their Lunar Module, the Eagle, in the background at the far left.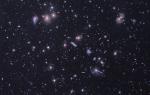 The Hercules Cluster of Galaxies
19.07.2007
These are galaxies of the Hercules Cluster, an archipelago of island universes a mere 500 million light-years away. Also known as Abell 2151, this cluster is loaded with gas and dust rich, star-forming spiral galaxies but has relatively few elliptical galaxies, which lack gas and dust and the associated newborn stars.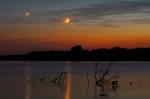 Planets over Pony Express Lake
18.07.2007
Beautiful sunset sky colors are reflected in Pony Express Lake in this twilight skyview from northern Missouri, USA, planet Earth. Recorded on Monday, a two day old crescent Moon and brilliant planet Venus shine through thin clouds.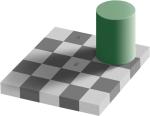 The Same Color Illusion
17.07.2007
Are square A and B the same color? They are. Are too. To verify this, click on the above image to see them connected. The above illusion, called the same color illusion, illustrates that purely human observations in science may be ambiguous or inaccurate. Even such a seemingly direct perception as relative color.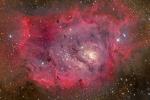 The Lagoon Nebula in Gas, Dust, and Stars
16.07.2007
Stars are battling gas and dust in the Lagoon Nebula but the photographers are winning. Also known as M8, this photogenic nebula is visible even without binoculars towards the constellation of Sagittarius. The energetic processes of star formation create not only the colors but the chaos.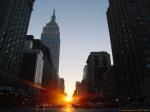 Manhattanhenge: A New York Sunset
13.07.2007
Today, if it is clear, well placed New Yorkers can go outside at sunset and watch their city act like a modern version of Stonehenge. Manhattan will flood dramatically with sunlight just as the Sun sets precisely on the centerline of every street.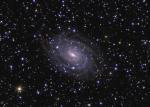 NGC 6384: Beyond the Stars
12.07.2007
The universe is filled with galaxies. But to see them astronomers must look out beyond the stars of our galaxy, the Milky Way. For example, consider this colorful telescopic view of spiral galaxy NGC 6384, about 80 million light-years away in the direction of the constellation Ophiuchus.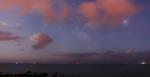 Constellations and Cloudy Skies
11.07.2007
Recorded earlier in July, the clouds of planet Earth reflect moonlight and a faint, reddish glow in this serene sea and skyscape. Beyond them lie the cosmic dust and star clouds of the Milky Way.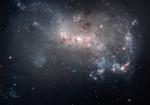 NGC 4449: Close Up of a Small Galaxy
10.07.2007
Grand spiral galaxies often seem to get all the glory. Their newly formed, bright, blue star clusters along beautiful, symmetric spiral arms are guaranteed to attract attention. But small irregular galaxies form stars too, like NGC 4449, located about 12 million light-years away.