Astronomy Picture Of the Day (APOD)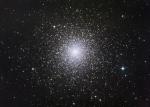 Globular Star Cluster M3
9.06.2007
This immense ball of half a million stars older than the Sun lies over 30,000 light-years away. Cataloged as M3 (and NGC 5272), it is one of about 150 globular star clusters that roam the halo of our Milky Way Galaxy.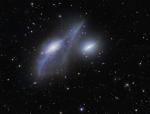 Markarian s Eyes
8.06.2007
Across the heart of the Virgo Galaxy Cluster lies a string of galaxies known as Markarian's Chain. Prominent in Markarian's Chain are these two interacting galaxies, NGC 4438 (left) and NGC 4435 - also known as The Eyes.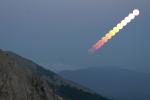 Great Mountain Moonrise
7.06.2007
On May 31st, a gorgeous Full Moon rose over Uludag Mountain in Bursa Province, Turkey. This alluring telephoto view of the twilight scene is a composite of images taken roughly every two minutes beginning shortly after Sunset, following the rising Moon as it moves up and to the right.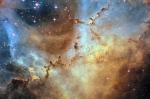 Dust Sculptures in the Rosette Nebula
6.06.2007
What creates the cosmic dust sculptures in the Rosette Nebula? Noted for the common beauty of its overall shape, parts of the Rosette Nebula, also known as NGC 2244, show beauty even when viewed up close.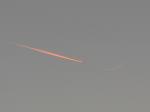 Jet Approaching a Crescent Moon
5.06.2007
No natural clouds appear in this picture. On the left, an airplane cruises through the atmosphere leaving a contrail in its wake. The contrail would normally appear white, but the large volume of air toward the setting Sun preferentially knocks away blue light, giving the reflected trail a bright orange hue.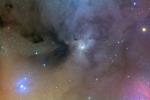 IC 4603: Reflection Nebula in Ophiuchius
4.06.2007
Why does this starfield photograph resemble an impressionistic painting? The effect is created not by digital trickery but by large amounts of interstellar dust. Dust, minute globs rich in carbon and similar in size to cigarette smoke, frequently starts in the outer atmospheres of large, cool, young stars.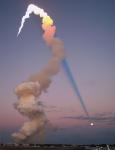 Shuttle Plume Shadow Points to Moon
3.06.2007
Why would the shadow of a space shuttle launch plume point toward the Moon? In early 2001 during a launch of Atlantis, the Sun, Earth, Moon, and rocket were all properly aligned for this photogenic coincidence.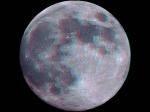 3D Full Moon
2.06.2007
Get out your red/blue glasses and check out this satisfying stereo anaglyph of the Full Moon. A corresponding stereo image pair, intended for cross-eyed viewing, is also available through this link. Regardless of your...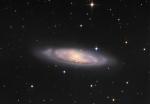 Messier 65
1.06.2007
M65 is a big, beautiful spiral galaxy, the sixty-fifth object in the famous astronomical catalog compiled by 18th century cosmic tourist Charles Messier. It's also a member of a picturesque trio of large spiral galaxies known as the Leo Triplet, about 35 million light-years away.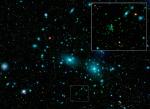 Dwarf Galaxies in the Coma Cluster
31.05.2007
In visible light images, over a thousand galaxies are seen to lie within a volume about 20 million light-years across in the rich Coma Galaxy Cluster. But infrared images of the Coma Cluster have now been used to add thousands more to the Coma's galaxy count in the form of previously undiscovered dwarf galaxies.