Astronomy Picture Of the Day (APOD)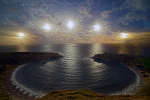 Solstice Sun at Lulworth Cove
31.12.2015
A southern exposure and striking symmetry made Lulworth Cove, along the Jurassic Coast of England, planet Earth a beautiful setting during this December's Solstice. Five frames in this dramatic composite view follow the lowest arc of the Sun, from sunrise to sunset, during the shortest day of the year.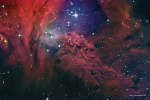 The Fox Fur Nebula
30.12.2015
This interstellar canine is formed of cosmic dust and gas interacting with the energetic light and winds from hot young stars. The shape, visual texture, and color, combine to give the region the popular name Fox Fur Nebula.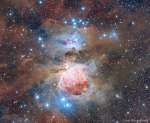 Dust of the Orion Nebula
29.12.2015
What surrounds a hotbed of star formation? In the case of the Orion Nebula -- dust. The entire Orion field, located about 1600 light years away, is inundated with intricate and picturesque filaments of dust.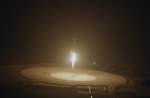 Falcon 9 First Stage Landing
28.12.2015
The booster has landed. Spaceflight took a step toward the less expensive last week when the first stage of a Falcon 9 rocket set down on a landing pad not far from its Florida launch.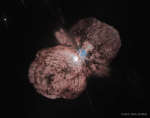 Doomed Star Eta Carinae
27.12.2015
Eta Carinae may be about to explode. But no one knows when - it may be next year, it may be one million years from now. Eta Carinae's mass - about 100 times greater than our Sun - makes it an excellent candidate for a full blown supernova.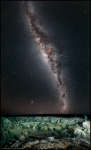 Southern Craters and Galaxies
26.12.2015
The Henbury craters in the Northern Territory, Australia, planet Earth, are the scars of an impact over 4,000 years old. When an ancient meteorite fragmented into dozens of pieces, the largest made the 180 meter diameter crater whose weathered walls and floor are lit in the foreground of this southern hemisphere nightscape.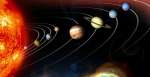 To Scale: The Solar System
25.12.2015
Want to build a scale model Solar System? A blue marble 1.4 centimeters (about half an inch) across would be a good choice for a scale model Earth. Since the Sun is 109 times the diameter of Earth, a 1.5 meter diameter balloon could represent the Sun.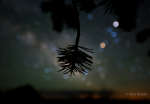 Star Colors and Pinyon Pine
24.12.2015
Beautiful, luminous decorations on this pinyon pine tree are actually bright stars in the constellation Scorpius and the faint glow of the central Milky Way. Captured in June from the north...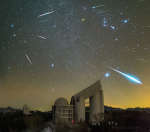 Geminid Meteors over Xinglong Observatory
23.12.2015
Where do Geminid meteors come from? In terms of location on the sky, as the featured image composite beautifully demonstrates, the sand-sized bits of rock that create the streaks of the Geminid Meteor Shower appear to flow out from the constellation of Gemini.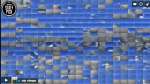 Solstice Illuminated: A Year of Sky
22.12.2015
Can you find which day is the winter solstice? Each panel shows one day. With 360 movie panels, the sky over (almost) an entire year is shown in time lapse format as recorded by a video camera on the roof of the Exploratorium museum in San Francisco, California.