Astronomy Picture Of the Day (APOD)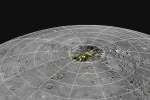 Northern Mercury
1.12.2012
Innermost planet Mercury would probably not be a good location for an interplanetary winter olympics. But new results based on data from the Mercury orbiting MESSENGER spacecraft indicate that it does have substantial water ice in permanently shadowed regions within craters near its north pole.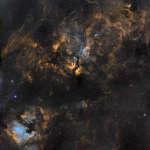 Clouds in Cygnus
30.11.2012
Cosmic clouds of gas and dust drift across this magnificent mosaic covering a 12x12 degree field within the high flying constellation Cygnus. The collaborative skyscape, a combination of broad and narrow band image data presented in the Hubble palette, is anchored by bright, hot, supergiant star Deneb, below center near the left edge.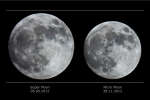 Super Moon vs Micro Moon
29.11.2012
Did you see the big, bright, beautiful Full Moon Wednesday night? That was actually a Micro Moon! On that night, the smallest Full Moon of 2012 reached its full phase only about 4 hours before apogee, the most distant point from Earth in the Moon's elliptical orbit.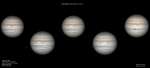 Jupiter and Io
28.11.2012
On December 3 (UT), Jupiter, the solar system's largest planet, will be at opposition, opposite the Sun in planet Earth's sky, shining brightly and rising as the Sun sets. That configuration results in Jupiter's almost annual closest approach to planet Earth.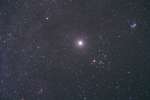 Bright Jupiter in Taurus
27.11.2012
That bright star you've recently noticed rising just after sunset isn't a star at all. It's Jupiter, the solar system's ruling gas giant. Bright Jupiter is nearing its December 3rd opposition when it will stand in Taurus, opposite the Sun in planet Earth's sky.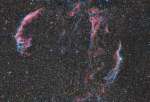 Wisps of the Veil Nebula
26.11.2012
Wisps like this are all that remain visible of a Milky Way star. About 9,000 years ago that star exploded in a supernova leaving the Veil Nebula, also known as the Cygnus Loop.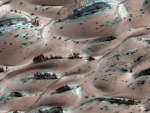 Dark Sand Cascades on Mars
25.11.2012
They might look like trees on Mars, but they're not. Groups of dark brown streaks have been photographed by the Mars Reconnaissance Orbiter on melting pinkish sand dunes covered with light frost. The above image was taken in 2008 April near the North Pole of Mars.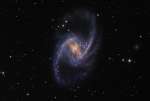 NGC 1365: Majestic Spiral with Supernova
24.11.2012
Barred spiral galaxy NGC 1365 is truly a majestic island universe some 200,000 light-years across. Located a mere 60 million light-years away toward the chemical constellation Fornax, NGC 1365 is a dominant member of the well-studied Fornax galaxy cluster.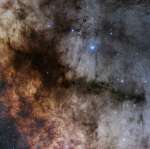 The Pipe Nebula
23.11.2012
East of Antares, dark markings sprawl through crowded star fields toward the center of our Milky Way Galaxy. Cataloged in the early 20th century by astronomer E. E. Barnard, the obscuring interstellar dust clouds include B59, B72, B77 and B78, seen in silhouette against the starry background.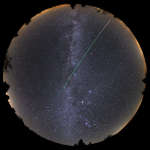 Night of the Long Leonid
22.11.2012
A cosmic grain of sand left the long and colorful trail across this all-sky view. Its grazing impact with planet Earth's atmosphere began at 71 kilometers per second. With the Milky Way stretching...