Astronomy Picture Of the Day (APOD)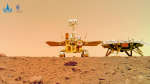 Zhurong: New Rover on Mars
15.06.2021
There's a new rover on Mars. In mid-May, China's Tianwen-1 mission delivered the Zhurong rover onto the red planet. As Mars means Planet of Fire in Chinese, the Zhurong rover's name means, roughly, God of Fire in Chinese mythology.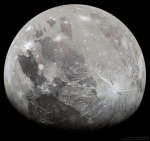 Ganymede from Juno
14.06.2021
What does the largest moon in the Solar System look like? Jupiter's moon Ganymede, larger than even Mercury and Pluto, has an icy surface speckled with bright young craters overlying a mixture of older, darker, more cratered terrain laced with grooves and ridges.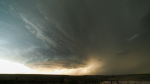 A Supercell Thunderstorm Over Texas
13.06.2021
Is that a cloud or an alien spaceship? It's an unusual and sometimes dangerous type of thunderstorm cloud called a supercell. Supercells may spawn damaging tornados, hail, downbursts of air, or drenching rain. Or they may just look impressive.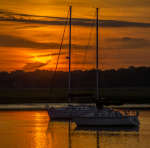 Eclipse on the Water
12.06.2021
Eclipses tend to come in pairs. Twice a year, during an eclipse season that lasts about 34 days, Sun, Moon, and Earth can nearly align. Then the full and new phases of the Moon separated by just over 14 days create a lunar and a solar eclipse.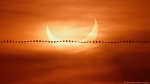 Eclipse Flyby
11.06.2021
On June 10 a New Moon passed in front of the Sun. In silhouette only two days after reaching apogee, the most distant point in its elliptical orbit, the Moon's small apparent size helped create an annular solar eclipse.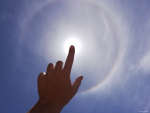 Circular Sun Halo
10.06.2021
Want to see a ring around the Sun? It's easy to do in daytime skies around the world. Created by randomly oriented ice crystals in thin high cirrus clouds, circular 22 degree halos are visible much more often than rainbows. This one was captured by smart phone photography on May 29 near Rome, Italy.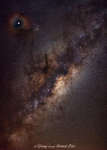 A Total Lunar Eclipse Corona
9.06.2021
This moon appears multiply strange. This moon was a full moon, specificallyбcalled a Flower Moon at this time of the year. But that didn't make it strange -- full moons occur once a month (moon-th).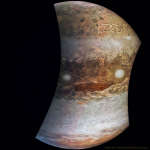 A Face in the Clouds of Jupiter from Juno
8.06.2021
What do you see in the clouds of Jupiter? On the largest scale, circling the planet, Jupiter has alternating light zones and reddish-brown belts. Rising zone gas, mostly hydrogen and helium, usually swirls around regions of high pressure. Conversely, falling belt gas usually whirls around regions of low pressure, like cyclones and hurricanes on Earth.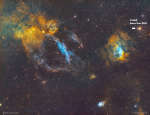 A Bright Nova in Cassiopeia
7.06.2021
WhatБs that new spot of light in Cassiopeia? A nova. Although novas occur frequently throughout the universe, this nova, known as Nova Cas 2021 or V1405 Cas, became so unusually bright in the skies of Earth last month that it was visible to the unaided eye.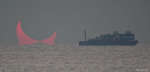 A Distorted Sunrise Eclipse
6.06.2021
Yes, but have you ever seen a sunrise like this? Here, after initial cloudiness, the Sun appeared to rise in two pieces and during partial eclipse, causing the photographer to describe it as the most stunning sunrise of his life.