Astronomy Picture Of the Day (APOD)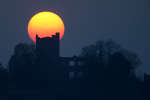 Sunspot Castle
12.11.2011
Each day can have a beautiful ending as the Sun sets below the western horizon. This week, the setting Sun added naked-eye sunspots to its finale, as enormous active regions rotated across the dimmed, reddened solar disc.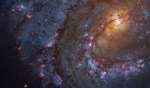 In the Arms of M83
11.11.2011
Big, bright, and beautiful, spiral galaxy M83 lies a mere twelve million light-years away, near the southeastern tip of the very long constellation Hydra. This cosmic close-up, a mosaic based on data from...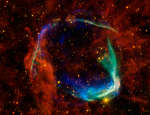 RCW 86: Historical Supernova Remnant
10.11.2011
In 185 AD, Chinese astronomers recorded the appearance of a new star in the Nanmen asterism - a part of the sky identified with Alpha and Beta Centauri on modern star charts. The new star was visible for months and is thought to be the earliest recorded supernova.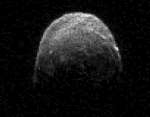 Asteroid 2005 YU55 Passes the Earth
9.11.2011
Asteroid 2005 YU55 passed by the Earth yesterday, posing no danger. The space rock, estimated to be about 400 meters across, coasted by just inside the orbit of Earth's Moon. Although the passing...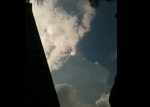 Jumping Sundogs Over Thunderclouds
8.11.2011
What's happening above those clouds? In the past few years, videos have appeared on the web detailing an unusual but little known phenomenon: rapid light changes over clouds. Upon inspection and contemplation, a leading hypothesis for its cause has now emerged.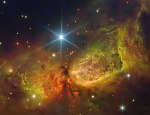 Star Forming Region S106
7.11.2011
Massive star IRS 4 is beginning to spread its wings. Born only about 100,000 years ago, material streaming out from this newborn star has formed the nebula dubbed Sharpless 2-106 Nebula (S106), pictured above.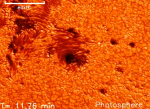 Orange Sun Oozing
6.11.2011
The Sun's surface keeps changing. The above movie shows how the Sun's surface oozes during a single hour. The Sun's photosphere has thousands of bumps called granules and usually a few dark depressions called sunspots.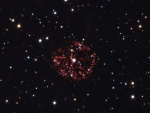 GK Per: Nova of 1901
5.11.2011
Early in the 20th century, GK Persei briefly became one of the brightest stars in planet Earth's sky, an event known as Nova Persei 1901. Documented in this modern day composite of two images from 2003 and 2011 the ejecta from the explosion, popularly called the Firework Nebula, continues to expand into space.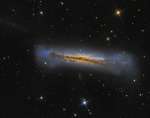 Edge on NGC 3628
4.11.2011
Sharp telescopic views of magnificent edge-on spiral galaxy NGC 3628 show a puffy galactic disk divided by dark dust lanes. The tantalizing scene puts many astronomers in mind of its popular moniker, The Hamburger Galaxy.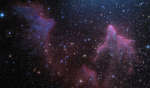 IC 59 and IC 63 in Cassiopeia
3.11.2011
These bright rims and flowing shapes suggest to some melting ice cream on a cosmic scale. Looking toward the constellation Cassiopeia, the colorful (zoomable) skyscape features the swept back, comet-shaped clouds IC 59 (left) and IC 63.