Astronomy Picture Of the Day (APOD)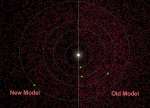 Asteroids Near Earth
1.10.2011
Though the sizes are not to scale, the Sun and planets of the inner solar system are shown in this illustration, where each red dot represents an asteroid. New results from NEOWISE, the infrared...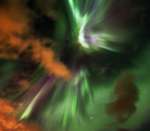 Cloudy Night of the Northern Lights
30.09.2011
On September 26, a large solar coronal mass ejection smacked into planet Earth's magnetosphere producing a severe geomagnetic storm and wide spread auroras. Captured here near local midnight from Kvaløya island outside Tromsø in northern Norway, the intense auroral glow was framed by parting rain clouds.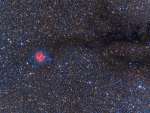 Cocoon Nebula Wide Field
29.09.2011
In this crowded starfield spanning some 3 degrees within the high flying constellation Cygnus, the eye is drawn to the Cocoon Nebula. A compact star forming region, the cosmic Cocoon punctuates a long trail of obscuring interstellar dust clouds.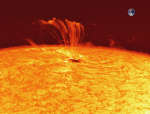 Violent Sunspot Group AR 1302 Unleashes a Flare
28.09.2011
One of the most active sunspot groups in years is currently crossing the Sun. AR 1302 first came around the Sun's edge last week and is so large it can be seen without a telescope.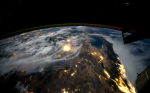 Flying over Planet Earth
27.09.2011
Have you ever dreamed of flying high above the Earth? Astronauts visiting the International Space Station do this every day, circling our restless planet twice every three hours. A dramatic example of their view was compiled in the above time-lapse video from images taken earlier this month.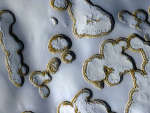 Dry Ice Pits on Mars
26.09.2011
Part of Mars is defrosting. Around the South Pole of Mars, toward the end of every Martian summer, the warm weather causes a section of the vast carbon-dioxide ice cap to evaporate. Pits begin to appear and expand where the carbon dioxide dry ice sublimates directly into gas.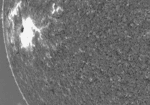 A Large Tsunami Shock Wave on the Sun
25.09.2011
Tsunamis this large don't happen on Earth. During 2006, a large solar flare from an Earth-sized sunspot produced a tsunami-type shock wave that was spectacular even for the Sun. Pictured above, the tsunami...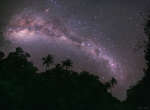 Mangaia's Milky Way
24.09.2011
From Sagittarius to Carina, the Milky Way Galaxy shines in this dark night sky above planet Earth's lush island paradise of Mangaia. Familiar to denizens of the southern hemisphere, the gorgeous skyscape includes the bulging galactic center at the upper left and bright stars Alpha and Beta Centauri just right of center.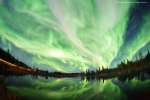 September s Aurora
23.09.2011
September's equinox arrives today at 0905 UT. As the Sun crosses the celestial equator heading south, spring begins in the southern hemisphere and autumn in the north. And though the seasonal connection is still puzzling, both spring and autumn bring an increase in geomagnetic storms.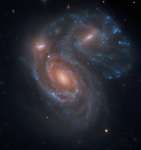 Arp 272
22.09.2011
Linking spiral arms, two large colliding galaxies are featured in this remarkable cosmic portrait constructed using image data from the Hubble Legacy Archive. Recorded in astronomer Halton Arp's Atlas of Peculiar Galaxies as Arp 272, the pair is otherwise known as NGC 6050 near center, and IC 1179 at upper right.