Astronomy Picture Of the Day (APOD)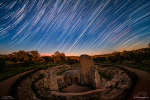 Star Trails and the Equinox Sunrise
21.03.2019
Stars trail and the Sun rises in this night and day composite panorama made on March 19. The view looks toward the eastern horizon from La Nava de Santiago, Spain. To create...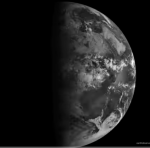 Equinox on Planet Earth
20.03.2019
Welcome to an equinox on planet Earth. Today is the first day of spring in our fair planet's northern hemisphere, fall in the southern hemisphere, with day and night nearly equal around the globe.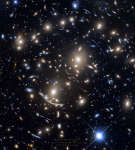 Abell 370: Galaxy Cluster Gravitational Lens
19.03.2019
What are those strange arcs? While imaging the cluster of galaxies Abell 370, astronomers noticed an unusual arc. The arc wasn't understood right away -- not until better images showed that...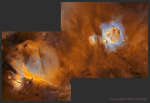 Horsehead and Orion Nebulas
18.03.2019
The dark Horsehead Nebula and the glowing Orion Nebula are contrasting cosmic vistas. Adrift 1,500 light-years away in one of the night sky's most recognizable constellations, they appear in opposite corners of the above stunning two-panel mosaic.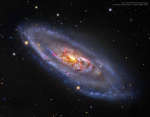 M106: A Spiral Galaxy with a Strange Center
17.03.2019
What's happening at the center of spiral galaxy M106? A swirling disk of stars and gas, M106's appearance is dominated by blue spiral arms and red dust lanes near the nucleus, as shown in the featured image.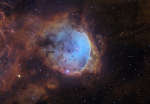 NGC 3324 in Carina
16.03.2019
This bright cosmic cloud was sculpted by stellar winds and radiation from the hot young stars of open cluster NGC 3324. With dust clouds in silhouette against its glowing atomic gas, the pocket-shaped star-forming region actually spans about 35 light-years. It lies some 7,500 light-years away toward the nebula rich southern constellation Carina.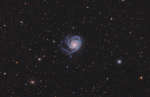 A View Toward M101
15.03.2019
Big, beautiful spiral galaxy M101 is one of the last entries in Charles Messier's famous catalog, but definitely not one of the least. About 170,000 light-years across, this galaxy is enormous, almost twice the size of our own Milky Way galaxy.

Perseverance Valley Panorama
14.03.2019
Mars exploration rover Opportunity's parting panorama from Perseverance Valley spans 360 degrees in this false color mosaic. The scene is composed of 354 individual images recorded through 3 different color filters by the rover's panoramic camera from May 13 through June 10, 2018.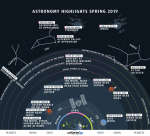 Highlights of the North Spring Sky
13.03.2019
What can you see in the night sky this season? The featured graphic gives a few highlights for Earth's northern hemisphere. Viewed as a clock face centered at the bottom, early (northern) spring sky events fan out toward the left, while late spring events are projected toward the right.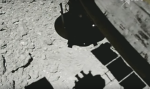 Touchdown on Asteroid Ryugu
12.03.2019
Last month, humanity bounced a robot off an asteroid. The main reason was to collect a surface sample. Despite concern over finding a safely reboundable touchdown spot, Japan's robotic Hayabusa2 spacecraft successfully touched down -- and bounced right back from -- asteroid Ryugu.