Astronomy Picture Of the Day (APOD)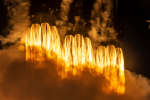 Falcon Heavy Launch Close up
20.04.2019
Twenty seven Merlin rocket engines are firing in this close-up of the launch of a Falcon Heavy rocket. Derived from three Falcon 9 first stage rockets with nine Merlin rocket engines each, the Falcon Heavy left NASA's Kennedy Space Center launch pad 39A on April 11.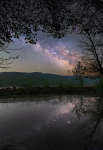 Milky Way in Northern Spring
19.04.2019
A postcard from planet Earth, this springtime night skyscape looks over Alandan lake in the Alborz mountains. Taken after local midnight on April 17, the central Milky Way is rising over the region's southeast horizon. Its luminous track of stars and nebulae along the plane of our galaxy are reflected in the mirror-like lake.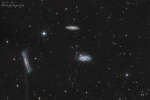 The Leo Trio
18.04.2019
This group is popular in the northern spring. Famous as the Leo Triplet, the three magnificent galaxies gather in one field of view. Crowd pleasers when imaged with even modest telescopes, they can be introduced individually as NGC 3628 (left), M66 (bottom right), and M65 (top).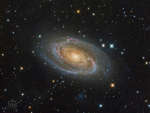 Messier 81
17.04.2019
One of the brightest galaxies in planet Earth's sky is similar in size to our Milky Way Galaxy: big, beautiful Messier 81. Also known as NGC 3031 or Bode's galaxy for its 18th century discoverer, this grand spiral can be found toward the northern constellation of Ursa Major, the Great Bear.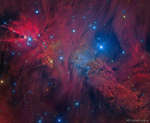 In the Vicinity of the Cone Nebula
16.04.2019
Strange shapes and textures can be found in neighborhood of the Cone Nebula. The unusual shapes originate from fine interstellar dust reacting in complex ways with the energetic light and hot gas being expelled by the young stars.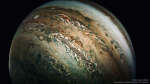 Enhanced: The Dolphin Cloud on Jupiter
15.04.2019
Do you see the dolphin-shaped cloud on Jupiter? The cloud was visible last year during perijove 16, the sixteenth time that NASA's robotic spacecraft Juno passed near Jupiter since it arrived in mid-2016. During each perijove, Juno passes near a slightly different part of Jupiter's cloud tops.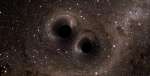 Simulation: Two Black Holes Merge
14.04.2019
Sit back and watch two black holes merge. Inspired by the first direct detection of gravitational waves in 2015, this simulation video plays in slow motion but would take about one third of a second if run in real time.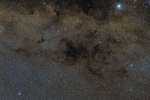 Rigil Kentaurus and Sandqvist 169
13.04.2019
Rigil Kentaurus is the bright star near the top of this broad southern skyscape. Of course it's probably better known as Alpha Centauri, nearest star system to the Sun. Below it sprawls a dark nebula complex.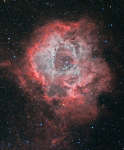 A Cosmic Rose: The Rosette Nebula in Monoceros
12.04.2019
The Rosette Nebula, NGC 2237, is not the only cosmic cloud of gas and dust to evoke the imagery of flowers, but it is the most famous. At the edge of a large molecular cloud in Monoceros some 5,000 light years away, the petals of this cosmic rose are actually a stellar nursery.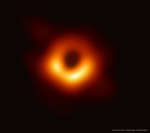 First Horizon Scale Image of a Black Hole
11.04.2019
What does a black hole look like? To find out, radio telescopes from around the Earth coordinated observations of black holes with the largest known event horizons on the sky. Alone, black holes are just black, but these monster attractors are known to be surrounded by glowing gas.