Astronomy Picture Of the Day (APOD)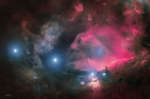 Orions Belt Region in Gas and Dust
11.01.2022
You may have seen Orion's belt before -- but not like this. The three bright stars across this image are, from left to right, Mintaka, Alnilam, and Alnitak: the iconic belt stars of Orion.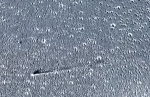 Comet Leonards Tail Wag
10.01.2022
Why does Comet Leonard's tail wag? The featured time-lapse video shows the ion tail of Comet C/2021 A1 (Leonard) as it changed over ten days early last month. The video was taken by NASA's Solar Terrestrial Relations Observatory-Ahead (STEREO-A) spacecraft that co-orbits the Sun at roughly the same distance as the Earth.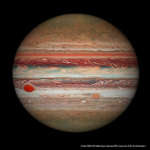 Hubbles Jupiter and the Shrinking Great Red Spot
9.01.2022
What will become of Jupiter's Great Red Spot? Gas giant Jupiter is the solar system's largest world with about 320 times the mass of planet Earth. Jupiter is home to one of the largest and longest lasting storm systems known, the Great Red Spot (GRS), visible to the left.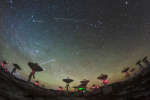 Quadrantids of the North
8.01.2022
Named for a forgotten constellation, the Quadrantid Meteor Shower puts on an annual show for planet Earth's northern hemisphere skygazers. The shower's radiant on the sky lies within the old, astronomically obsolete constellation Quadrans Muralis.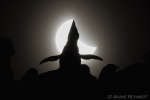 Ecstatic Solar Eclipse
7.01.2022
A male Adelie penguin performed this Ecstatic Vocalization in silhouette during the December 4 solar eclipse, the final eclipse of 2021. Of course his Ecstatic Vocalization is a special display that male penguins use to claim their territory and advertise their condition.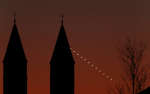 The Last Days of Venus as the Evening Star
6.01.2022
That's not a young crescent Moon posing behind cathedral towers after sunset. It's Venus in a crescent phase. About 40 million kilometers away and about 2 percent illuminated by sunlight...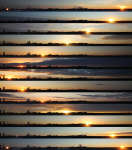 A Year of Sunrises
5.01.2022
Does the Sun always rise in the same direction? No. As the months change, the direction toward the rising Sun changes, too. The featured image shows the direction of sunrise every month during 2021 as seen from the city of Edmonton, Alberta, Canada.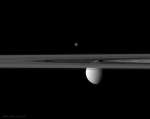 Moons Beyond Rings at Saturn
4.01.2022
What's happened to that moon of Saturn? Nothing -- Saturn's moon Rhea is just partly hidden behind Saturn's rings. In 2010, the robotic Cassini spacecraft then orbiting Saturn took this narrow-angle view looking across the Solar System's most famous rings.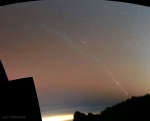 Comet Leonards Long Tail
3.01.2022
You couldn't see Comet LeonardБs extremely long tail with a telescope Б it was just too long. You also couldn't see it with binoculars Б still too long. Or with your eyes -- it was too dim. Or from a city Б the sky was too bright.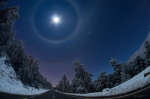 Quadruple Lunar Halo Over Winter Road
2.01.2022
Sometimes falling ice crystals make the atmosphere into a giant lens causing arcs and halos to appear around the Sun or Moon. One Saturday night in 2012 was just such a time near Madrid, Spain, where a winter sky displayed not only a bright Moon but four rare lunar halos.