Astronomy Picture Of the Day (APOD)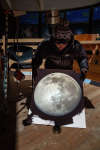 Direct Projection: The Moon in My Hands
28.02.2022
You don't have to look through a telescope to know where it's pointing. Allowing the telescope to project its image onto a large surface can be useful because it dilutes the intense brightness of very bright sources. Such dilution is useful for looking at the Sun, for example during a solar eclipse.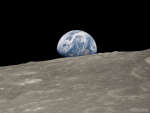 Earthrise 1: Historic Image Remastered
27.02.2022
"Oh my God! Look at that picture over there! Here's the Earth coming up. Wow is that pretty!" Soon after that pronouncement, 50 years ago today, one of the most famous images ever taken was snapped from the orbit of the Moon.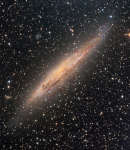 Nearby Spiral Galaxy NGC 4945
26.02.2022
Large spiral galaxy NGC 4945 is seen nearly edge-on in this cosmic galaxy close-up. It's almost the size of our Milky Way Galaxy. NGC 4945's own dusty disk, young blue star clusters, and pink star forming regions stand out in the colorful telescopic frame.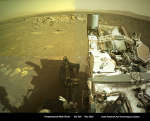 Perseverance Sol 354
25.02.2022
This Navcam mosaic from Perseverance looks out over the car-sized rover's deck, across the floor of Jezero crater on Mars. Frames used to construct the mosaic view were captured on mission sol 354. That corresponds to Earth calendar date February 17, 2022, nearly one Earth year after the rover's landing.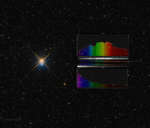 Beautiful Albireo AB
24.02.2022
Beta Cygni is a single bright star to the naked eye. About 420 light-years away it marks the foot of the Northern Cross, famous asterism in the constellation Cygnus. But a view through...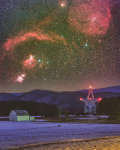 Orion over Green Bank
23.02.2022
What will the huge Green Bank Telescope discover tonight? Pictured, the Robert C. Byrd Green Bank Telescope (GBT) on the lower right is the largest fully-pointable single-dish radio telescope in the world. With...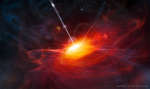 Illustration: An Early Quasar
22.02.2022
What did the first quasars look like? The nearest quasars are now known to involve supermassive black holes in the centers of active galaxies. Gas and dust that falls toward a quasar glows brightly, sometimes outglowing the entire home galaxy.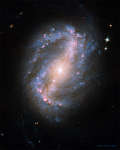 Barred Spiral Galaxy NGC 6217
21.02.2022
Many spiral galaxies have bars across their centers. Even our own Milky Way Galaxy is thought to have a modest central bar. Prominently barred spiral galaxy NGC 6217, featured here, was captured in spectacular detail in this image taken by the Advanced Camera for Surveys on the orbiting Hubble Space Telescope in 2009.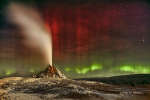 Aurora Over White Dome Geyser
20.02.2022
Sometimes both heaven and Earth erupt. Colorful auroras erupted unexpectedly a few years ago, with green aurora appearing near the horizon and brilliant bands of red aurora blooming high overhead. A bright Moon lit the foreground of this picturesque scene, while familiar stars could be seen far in the distance.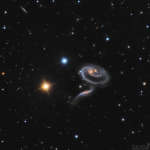 Peculiar Galaxies of Arp 273
19.02.2022
The spiky stars in the foreground of this backyard telescopic frame are well within our own Milky Way Galaxy. But the two eye-catching galaxies lie far beyond the Milky Way, at a distance of over 300 million light-years. Their distorted appearance is due to gravitational tides as the pair engage in close encounters.