Astronomy Picture Of the Day (APOD)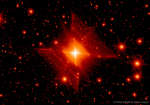 MWC 922: The Red Square Nebula
31.01.2016
What could cause a nebula to appear square? No one is quite sure. The hot star system known as MWC 922, however, appears to be embedded in a nebula with just such a shape. The featured image combines infrared exposures from the Hale Telescope on Mt.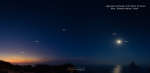 A Five Planet Dawn
30.01.2016
As January closes and in the coming days of February, early morning risers can spot the five naked-eye planets before dawn. Though some might claim to see six planets, in this seaside panoramic view all five celestial wanderers were found above the horizon along with a bright waning gibbous Moon on January 27.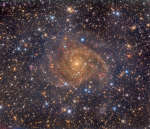 Hidden Galaxy IC 342
29.01.2016
Similar in size to large, bright spiral galaxies in our neighborhood, IC 342 is a mere 10 million light-years distant in the long-necked, northern constellation Camelopardalis. A sprawling island universe, IC 342 would otherwise...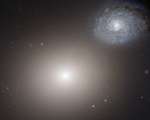 Elliptical M60, Spiral NGC 4647
28.01.2016
Giant elliptical galaxy M60 and spiral galaxy NGC 4647 do look like an odd couple in this sharp cosmic portrait from the Hubble Space Telescope. But they are found in a region of space where galaxies tend to gather, on the eastern side of the nearby Virgo Galaxy Cluster.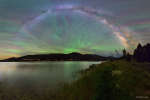 An Airglow Fan from Lake to Sky
27.01.2016
Why would the sky look like a giant fan? Airglow. The featured intermittent green glow appeared to rise from a lake through the arch of our Milky Way Galaxy, as captured last summer next to Bryce Canyon in Utah, USA.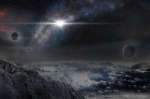 A Candidate for the Biggest Boom Yet Seen
26.01.2016
It is a candidate for the brightest and most powerful explosion ever seen -- what is it? The flaring spot of light was found by the All Sky Automated Survey for Supernovae (ASASSN) in June of last year and labelled ASASSN-15lh.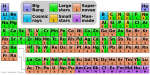 Where Your Elements Came From
25.01.2016
The hydrogen in your body, present in every molecule of water, came from the Big Bang. There are no other appreciable sources of hydrogen in the universe. The carbon in your body was made by nuclear fusion in the interior of stars, as was the oxygen.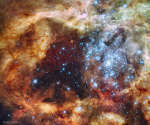 Star Cluster R136 Bursts Out
24.01.2016
In the center of star-forming region 30 Doradus lies a huge cluster containing some of the largest, hottest, and most massive stars known. These stars, known collectively as star cluster R136, were captured in the featured image in visible light by the Wide Field Camera 3 in 2009 peering through the Hubble Space Telescope.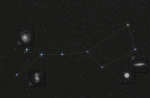 Big Dipper, Deep Sky
23.01.2016
The Big Dipper is an easy to recognize, well-known asterism in northern skies, though many see the Plough or Wagon. Famous bright nebulae of the north can also be found along its familiar lines, highlighted in this carefully composed scene with telescopic insets framed in the wider-field skyview.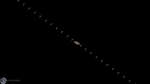 International Space Station Transits Saturn
22.01.2016
From low Earth orbit to the outer Solar System, this remarkable video frame composite follows the International Space Station's transit of Saturn. On January 15, the well-timed capture from a site near Dulmen, Germany required telescope and camera to be positioned along the predicted transit centerline, a path only 40 meters wide.