Astronomy Picture Of the Day (APOD)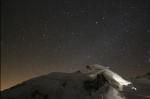 Geostationary Satellites Beyond the Alps
11.04.2012
Why don't those stars move? Stars in the sky will typically appear to rise and set as the Earth turns. Those far to the north or south will appear to circle the pole. If you look closely at the above time-lapse movie, however, there are points of light that appear stationary.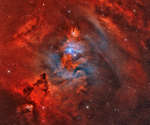 A Fox Fur, a Unicorn, and a Christmas Tree
10.04.2012
What do the following things have in common: a cone, the fur of a fox, and a Christmas tree? Answer: they all occur in the constellation of the unicorn (Monoceros). Pictured above...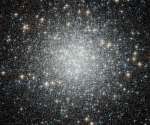 Blue Straggler Stars in Globular Cluster M53
9.04.2012
If our Sun were part of M53, the night sky would glow like a jewel box of bright stars. M53, also known as NGC 5024, is one of about 250 globular clusters that survive in our Galaxy.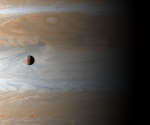 Io: Moon Over Jupiter
8.04.2012
How big is Jupiter's moon Io? The most volcanic body in the Solar System, Io (usually pronounced "EYE-oh") is 3,600 kilometers in diameter, about the size of planet Earth's single large natural satellite.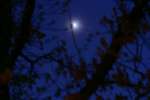 Conjunction Haiku
7.04.2012
Sister planet stands together with sister stars. Celebrate the sky.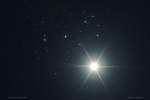 Venus and the Sisters
6.04.2012
After wandering about as far from the Sun on the sky as Venus can get, the brilliant evening star crossed paths with the Pleiades star cluster earlier this week. The beautiful conjunction was enjoyed by skygazers around the world. Taken on April 2, this celestial group photo captures the view from Portal, Arizona, USA.

Zodiacal Light Panorama
5.04.2012
Sweeping from the eastern to western horizon, this 360 degree panorama follows the band of zodiacal light along the solar system's ecliptic plane. Dust scattering sunlight produces the faint zodiacal glow that spans...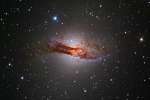 Centaurus A
4.04.2012
What's the closest active galaxy to planet Earth? That would be Centaurus A, only 11 million light-years distant. Spanning over 60,000 light-years, the peculiar elliptical galaxy is also known as NGC 5128.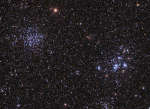 M46 and M47: Star Clusters Young and Old
3.04.2012
Many stars form in clusters. Galactic or open star clusters are relatively young swarms of bright stars born together near the plane of our Milky Way Galaxy. Separated by about a degree...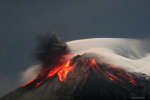 Tungurahua Erupts
2.04.2012
Volcano Tungurahua sometimes erupts spectacularly. Pictured above, molten rock so hot it glows visibly pours down the sides of the 5,000-meter high Tungurahua, while a cloud of dark ash is seen being ejected toward the left. Wispy white clouds flow around the lava-lit peak, while a star-lit sky shines in the distance.