Astronomy Picture Of the Day (APOD)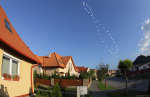 Analemma 2010
30.12.2010
Looking back on the year, have you wondered where the Sun was in the sky each day during 2010 at exacty 9am UT? Of course you have. Search no further for the answer! It was somewhere along this celestial figure 8 curve known as an analemma.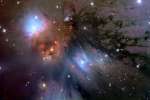 Still Life with NGC 2170
29.12.2010
In this beautiful celestial still life composed with a cosmic brush, dusty nebula NGC 2170 shines at the upper left. Reflecting the light of nearby hot stars, NGC 2170 is joined by other bluish reflection nebulae, a compact red emission region, and streamers of obscuring dust against a backdrop of stars.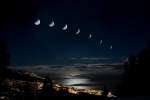 Eclipse at Moonset
28.12.2010
Hugging the horizon, a dark red Moon greeted early morning skygazers in eastern Atlantic regions on December 21, as the total phase of 2010's Solstice Lunar Eclipse began near moonset. This well composed...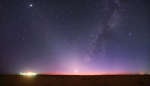 Skylights Over Libya
27.12.2010
Sometimes the sky itself seems to glow. Usually, this means you are seeing a cloud reflecting sunlight or moonlight. If the glow appears as a faint band of light running across the whole sky, you are probably seeing the combined light from the billions of stars that compose our Milky Way Galaxy.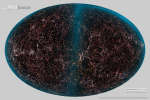 One Million Galaxies
26.12.2010
Are the nearest galaxies distributed randomly? A plot of over one million of the brightest "extended sources" detected by the Two Micron All Sky Survey (2MASS) shows that they are not. The vast majority of these infrared extended sources are galaxies.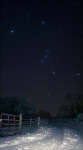 Sideways Orion Over Snowy Ireland
25.12.2010
Orion always comes up sideways ... and was caught in the act earlier this month by over a snowy landscape in Donegal, Ireland. To compose this serene picture, the photographer found a picturesque setting to the east, waited until after sunset, and then momentarily lit the foreground with a flashlight.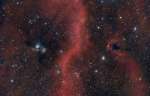 Decorating the Sky
24.12.2010
Bright stars, clouds of dust and glowing nebulae decorate this cosmic scene, a skyscape just north of Orion's belt. Close to the plane of our Milky Way Galaxy, the wide field view spans about 5.5 degrees. Striking bluish M78, a reflection nebula, is at the left.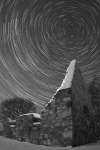 Star Trails in the North
23.12.2010
Pointing skyward, the wall of this ruined Viking church still stands after a thousand winters, near the town of Vallentuna, Sweden. The time exposure records the scene on December 14th as stars leave graceful arcing trails during a long night, reflecting planet Earth's daily rotation on its axis.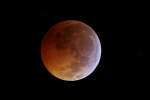 The Solstice Moon s Eclipse
22.12.2010
A big, bright, beautiful Full Moon slid into planet Earth's shadow early Tuesday morning. Remarkably, the total lunar eclipse coincided with the date of the December Solstice. During the eclipse, the best viewing...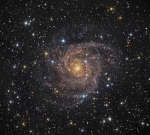 Hidden Galaxy IC 342
21.12.2010
Similar in size to other large, bright spiral galaxies, IC 342 is a mere 7 million light-years distant in the long-necked, northern constellation Camelopardalis. A sprawling island universe, IC 342 would otherwise...