Astronomy Picture Of the Day (APOD)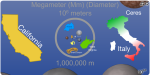 The Scale of the Universe Interactive
12.03.2012
What does the universe look like on small scales? On large scales? Humanity is discovering that the universe is a very different place on every proportion that has been explored. For example, so far as we know, every tiny proton is exactly the same, but every huge galaxy is different.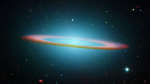 The Sombrero Galaxy in Infrared
11.03.2012
This floating ring is the size of a galaxy. In fact, it is part of the photogenic Sombrero Galaxy, one of the largest galaxies in the nearby Virgo Cluster of Galaxies. The dark band of dust that obscures the mid-section of the Sombrero Galaxy in optical light actually glows brightly in infrared light.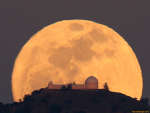 Lick Observatory Moonrise
10.03.2012
As viewed from a well chosen location at sunset, the gorgeous Full Moon rose behind Mount Hamilton, east of San Jose, California on March 7. The lunar disk frames historic Lick Observatory perched on the mountain's 4,200 foot summit.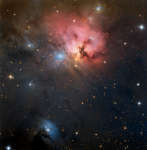 NGC 1579: Trifid of the North
9.03.2012
Colorful NGC 1579 resembles the better known Trifid Nebula, but lies much farther north in planet Earth's sky, in the heroic constellation Perseus. About 2,100 light-years away and 3 light-years across...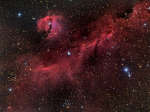 The Seagull Nebula
8.03.2012
A broad expanse of glowing gas and dust presents a bird-like visage to astronomers from planet Earth, suggesting its popular moniker - The Seagull Nebula. This portrait of the cosmic bird covers a 1.6 degree wide swath across the plane of the Milky Way, near the direction of Sirius, alpha star of the constellation Canis Major.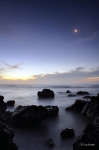 Conjunction Over Reunion Island
7.03.2012
You don't have to be on Reunion Island to see this week's planetary conjunction. Only if you want to see this picturesque seascape as well. To see the conjunction from just about anywhere in the world, look to the west after sunset.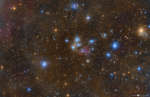 NGC 2170: Celestial Still Life
6.03.2012
Is this a painting or a photograph? In this beautiful celestial still life composed with a cosmic brush, dusty nebula NGC 2170 shines near the image center. Reflecting the light of nearby hot stars...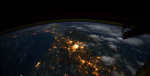 Flying Over the Earth at Night
5.03.2012
Many wonders are visible when flying over the Earth at night. A compilation of such visual spectacles was captured recently from the International Space Station (ISS) and set to rousing music. Passing below are white clouds, orange city lights, lightning flashes in thunderstorms, and dark blue seas.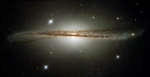 Warped Spiral Galaxy ESO 510 13
4.03.2012
How did spiral galaxy ESO 510-13 get bent out of shape? The disks of many spirals are thin and flat, but not solid. Spiral disks are loose conglomerations of billions of stars and diffuse gas all gravitationally orbiting a galaxy center.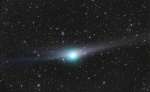 Another Tail for Comet Garradd
3.03.2012
Remarkable comet Garradd (C2009/P1) has come to be known for two distinctive tails. From the perspective of earthbound comet watchers the tails are visible on opposite sides of its greenish coma. Seen here in a telescopic view, the recognizable dust tail fans out to the right, trailing the comet nucleus in its orbit.