Astronomy Picture Of the Day (APOD)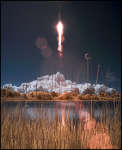 Antares Rocket Launch
21.09.2013
The sky looks dark in this scene from the Mid-Atlantic Regional Spaceport (MARS) at NASA Wallops Flight Facility, Virginia. Captured on Wednesday, September 18, an Orbital Sciences Corporation Antares rocket is leaving launch pad-0A with the Cygnus cargo spacecraft aboard.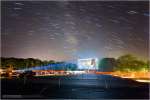 Night at the Drive In
20.09.2013
Colorful stars trail through this late summer, night skyscape from Cape Cod, Massachusetts. The picture was composed by stacking 12 consecutive 1 minute long digital camera exposures to follow the trails, a reflection of our fair planet's daily rotation.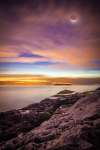 Moon, Venus, and Planet Earth
19.09.2013
In this engaging scene from planet Earth, the Moon shines through cloudy skies following sunset on the evening of September 8. Despite the fading light, the camera's long exposure still recorded a colorful, detailed view of a shoreline and western horizon looking toward the island San Gabriel from Colonia del Sacramento, Uruguay.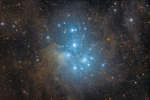 M45: The Pleiades Star Cluster
18.09.2013
Have you ever seen the Pleiades star cluster? Even if you have, you probably have never seen it as dusty as this. Perhaps the most famous star cluster on the sky, the bright stars of the Pleiades can be seen without binoculars from even the depths of a light-polluted city.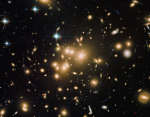 Galaxy Cluster Abell 1689 Deflects Light
17.09.2013
It is one of the most massive objects in the visible universe. In this view from the Hubble Space Telescope's Advanced Camera for Surveys, Abell 1689 is seen to warp space as predicted by Einstein's theory of gravity -- deflecting light from individual galaxies which lie behind the cluster to produce multiple, curved images.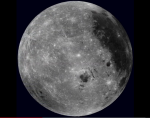 Rotating Moon from LRO
16.09.2013
No one, presently, sees the Moon rotate like this. That's because the Earth's moon is tidally locked to the Earth, showing us only one side. Given modern digital technology, however, combined with many detailed images returned by the Lunar Reconnaissance Orbiter (LRO), a high resolution virtual Moon rotation movie has now been composed.
M2 9: Wings of a Butterfly Nebula
15.09.2013
Are stars better appreciated for their art after they die? Actually, stars usually create their most artistic displays as they die. In the case of low-mass stars like our Sun and M2-9 pictured above, the stars transform themselves from normal stars to white dwarfs by casting off their outer gaseous envelopes.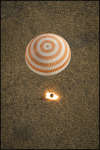 A Landing on Planet Earth
14.09.2013
With parachute deployed and retro-rockets blazing, this spacecraft landed on planet Earth on September 11 (UT) in a remote area near the town of Zhezkazgan, Kazakhstan. Seen in silhouette against the rockets' glare, the spacecraft is a Soyuz TMA-08M.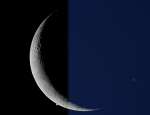 Crescent Moon Meets Evening Star
13.09.2013
On September 8, brilliant planet Venus appearing as the evening star stood near a slender, crescent Moon at sunset. The close celestial pairing or conjunction was a scene enjoyed by skygazers around the world. But from some locations in South America, the Moon actually passed in front of Venus in a lunar occultation.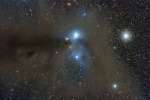 Stars and Dust Across Corona Australis
12.09.2013
Cosmic dust clouds sprawl across a rich field of stars in this sweeping telescopic vista near the northern boundary of Corona Australis, the Southern Crown. Less than 500 light-years away the dust clouds effectively block light from more distant background stars in the Milky Way.