Astronomy Picture Of the Day (APOD)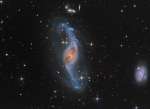 Twisting with NGC 3718
3.08.2013
A careful look at this colorful cosmic snapshot reveals a surprising number of galaxies both near and far toward the constellation Ursa Major. The most striking is NGC 3718, the warped spiral galaxy near picture center. NGC 3718's spiral arms look twisted and extended, mottled with young blue star clusters.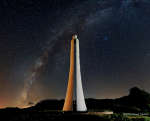 Tropic of Cancer
2.08.2013
This intriguing monument can be found in Taiwan between the cities of Hualian and Taitong. Split into two sides, it straddles a special circle of latitude on planet Earth, near 23.5 degrees north, known as the Tropic of Cancer.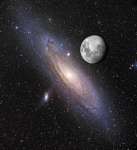 Moon Over Andromeda
1.08.2013
The Great Spiral Galaxy in Andromeda (aka M31), a mere 2.5 million light-years distant, is the closest large spiral to our own Milky Way. Andromeda is visible to the unaided eye as a small...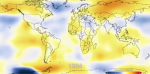 130 Years of Earth Surface Temperatures
31.07.2013
How has the surface temperature of Earth been changing? To help find out, Earth scientists collected temperature records from over 1000 weather stations around the globe since 1880, and combined them with modern satellite data.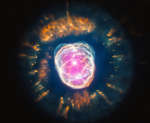 The Eskimo Nebula from Hubble and Chandra
30.07.2013
In 1787, astronomer William Herschel discovered the Eskimo Nebula. From the ground, NGC 2392 resembles a person's head surrounded by a parka hood. In 2000, the Hubble Space Telescope imaged the Eskimo Nebula in visible light, while the nebula was imaged in X-rays by the Chandra X-ray Observatory in 2007.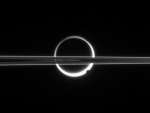 Saturn, Titan, Rings, and Haze
29.07.2013
This is not a solar eclipse. Pictured above is a busy vista of moons and rings taken at Saturn. The large circular object in the center of the image is Titan, the largest moon of Saturn and one of the most intriguing objects in the entire Solar System.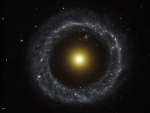 Hoags Object: A Strange Ring Galaxy
28.07.2013
Is this one galaxy or two? This question came to light in 1950 when astronomer Art Hoag chanced upon this unusual extragalactic object. On the outside is a ring dominated by bright blue stars, while near the center lies a ball of much redder stars that are likely much older.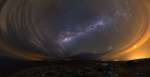 Atacama s Cloudy Night
27.07.2013
Storm clouds do sometimes come to Chile's Atacama desert, known as the driest place on Earth. These washed through the night sky just last month during the winter season, captured in this panoramic view.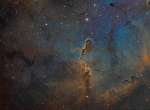 The Elephant s Trunk in IC 1396
26.07.2013
Like an illustration in a galactic Just So Story, the Elephant's Trunk Nebula winds through the emission nebula and young star cluster complex IC 1396, in the high and far off constellation of Cepheus. Of course, the cosmic elephant's trunk is over 20 light-years long.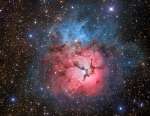 The Beautiful Trifid
25.07.2013
The beautiful Trifid Nebula is a cosmic study in contrasts. Also known as M20, it lies about 5,000 light-years away toward the nebula rich constellation Sagittarius. A star forming region in the plane...