Astronomy Picture Of the Day (APOD)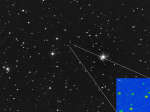 Introducing Comet ISON
1.10.2012
Could this dim spot brighten into one of the brightest comets ever? It's possible. Alternatively, the comet could break up when it gets closer to the Sun, or brighten much more modestly.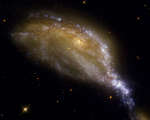 A Galaxy Collision in NGC 6745
30.09.2012
Galaxies don't normally look like this. NGC 6745 actually shows the results of two galaxies that have been colliding for only hundreds of millions of years. Just off the above digitally sharpened photograph to the lower right is the smaller galaxy, moving away.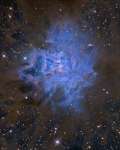 NGC 7023: The Iris Nebula
29.09.2012
Like delicate cosmic petals, these clouds of interstellar dust and gas have blossomed 1,300 light-years away in the fertile star fields of the constellation Cepheus. Sometimes called the Iris Nebula and dutifully cataloged as NGC 7023 this is not the only nebula in the sky to evoke the imagery of flowers.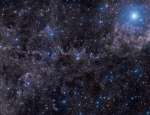 Stars in a Dusty Sky
28.09.2012
Bright star Markab anchors this dusty skyscape. At the top right corner of the frame, Markab itself marks a corner of an asterism known as the Great Square, found within the boundaries of the constellation Pegasus, the flying horse.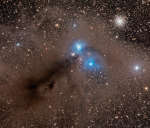 Stars and Dust Across Corona Australis
27.09.2012
Cosmic dust clouds sprawl across a rich field of stars in this sweeping telescopic vista near the northern boundary of Corona Australis, the Southern Crown. Probably less than 500 light-years away and effectively blocking...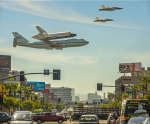 A Space Shuttle Over Los Angeles
26.09.2012
It's not every day that a space shuttle lands at LAX. Although this was a first for the major Los Angeles airport hub, it was a last for the space shuttle Endeavour, as it completed its tour of California skies and landed, albeit atop a 747, for the last time.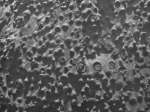 Unusual Spheres on Mars
25.09.2012
Why are these strange little spheres on Mars? The robotic rover Opportunity chanced across these unusually shaped beads earlier this month while exploring a place named Kirkwood near the rim of Mars' Endeavor Crater.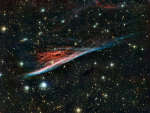 NGC 2736: The Pencil Nebula
24.09.2012
This shock wave plows through space at over 500,000 kilometers per hour. Moving toward to bottom of this beautifully detailed color composite, the thin, braided filaments are actually long ripples in a sheet of glowing gas seen almost edge on. Cataloged as NGC 2736, its narrow appearance suggests its popular name, the Pencil Nebula.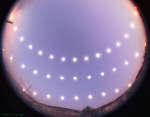 Equinox: The Sun from Solstice to Solstice
23.09.2012
Yesterday was an equinox, a date when day and night are equal. Today, and every day until the next equinox, the night will be longer than the day in Earth's northern hemisphere, and the day will be longer than the night in Earth's southern hemisphere.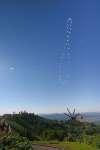 Austrian Analemma
22.09.2012
Today, the Sun crosses the celestial equator heading south at 14:49 Universal Time. An equinox (equal night), this astronomical event marks the first day of autumn in the northern hemisphere and spring in the south.