Astronomy Picture Of the Day (APOD)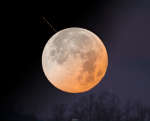 Full Moon, Full Mars
15.12.2022
On December 8 a full Moon and a full Mars were close, both bright and opposite the Sun in planet Earth's sky. In fact Mars was occulted, passing behind the Moon when viewed from some locations across Europe and North America.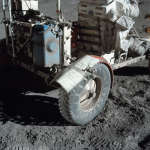 Lunar Dust and Duct Tape
14.12.2022
Why is the Moon so dusty? On Earth, rocks are weathered by wind and water, creating soil and sand. On the Moon, the history of constant micrometeorite bombardment has blasted away at the rocky surface creating a layer of powdery lunar soil or regolith.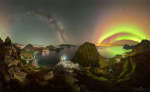 An Artful Sky over Lofoten Islands
13.12.2022
Can the night sky be both art and science? If so, perhaps the featured image is an example. The digital panorama was composed of 10 landscape and 10 sky images all taken on the same night, from the same location, and with the same camera.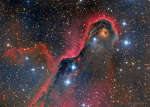 An Unusual Globule in IC 1396
12.12.2022
Is there a monster in IC 1396? Known to some as the Elephant's Trunk Nebula, parts of gas and dust clouds of this star formation region may appear to take on foreboding forms, some nearly human. The only real monster here, however, is a bright young star too far from Earth to hurt us.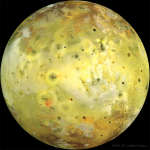 Io in True Color
11.12.2022
The strangest moon in the Solar System is bright yellow. The featured picture, an attempt to show how Io would appear in the "true colors" perceptible to the average human eye, was taken in 1999 July by the Galileo spacecraft that orbited Jupiter from 1995 to 2003.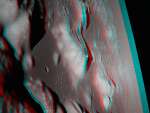 America and the Sea of Serenity
10.12.2022
Get out your red/blue glasses and check out this stereo view of another world. Fifty years ago the scene was recorded by Apollo 17 mission commander Eugene Cernan on December 11, 1972, one orbit before descending to land on the Moon.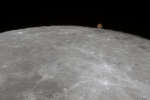 Mars Rises above the Lunar Limb
9.12.2022
On the night of December 7 Mars wandered near the Full Moon. In fact the Red Planet was occulted, passing behind the Moon, when viewed from locations across Europe and North America. About...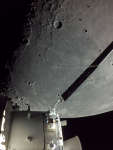 Orion and the Ocean of Storms
8.12.2022
A camera on board the uncrewed Orion spacecraft captured this view on December 5 as Orion approached its return powered flyby of the Moon. Below one of Orion's extended solar arrays lies dark, smooth, terrain along the western edge of the Oceanus Procellarum.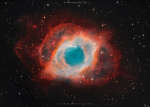 NGC 7293: The Helix Nebula
7.12.2022
A mere seven hundred light years from Earth, toward the constellation Aquarius, a sun-like star is dying. The dying star's last few thousand years have produced the Helix Nebula (NGC 7293), a well studied and nearby example of a Planetary Nebula, typical of this final phase of stellar evolution.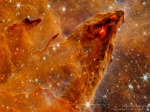 M16: A Star Forming Pillar from Webb
6.12.2022
WhatБs happening inside this interstellar mountain? Stars are forming. The mountain is actually a column of gas and dust in the picturesque Eagle Nebula (M16). A pillar like this is so low in density that you could easily fly though it -- it only appears solid because of its high dust content and great depth.