Astronomy Picture Of the Day (APOD)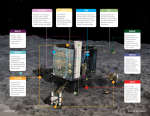 Philae Attempts Comet Nucleus Landing
11.11.2014
Today humanity will make its first attempt to land a probe on the nucleus of a comet. As the day progresses, the Philae (fee-LAY) lander will separate from the Rosetta spacecraft and head down...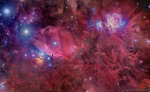 Orion in Gas, Dust, and Stars
10.11.2014
The constellation of Orion holds much more than three stars in a row. A deep exposure shows everything from dark nebula to star clusters, all embedded in an extended patch of gaseous wisps in the greater Orion Molecular Cloud Complex.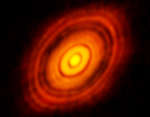 The Protoplanetary Disk of HL Tauri from ALMA
9.11.2014
Why does this giant disk have gaps? The exciting and probable answer is: planets. A mystery is how planets massive enough to create these gaps formed so quickly, since the HL Tauri star system is only about one million years old.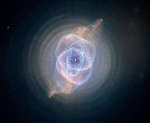 The Cat's Eye Nebula from Hubble
8.11.2014
To some, it may look like a cat's eye. The alluring Cat's Eye nebula, however, lies three thousand light-years from Earth across interstellar space. A classic planetary nebula, the Cat's Eye (NGC 6543) represents a final, brief yet glorious phase in the life of a sun-like star.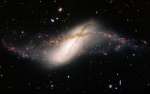 Polar Ring Galaxy NGC 660
7.11.2014
NGC 660 is featured in this cosmic snapshot, a sharp composite of broad and narrow band filter image data from the Gemini North telescope on Mauna Kea. Over 20 million light-years away and swimming within the boundaries of the constellation Pisces, NGC 660's peculiar appearance marks it as a polar ring galaxy.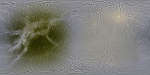 The Map of Dione
6.11.2014
This cylindrical projection global map is one of six new color maps of Saturn's midsized icy moons, constructed using 10 years of image data from the Cassini spacecraft. Discovered by Cassini (the astronomer) in 1684, Dione is about 1,120 kilometers across.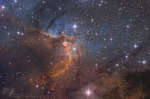 SH2 155: The Cave Nebula
5.11.2014
This colorful skyscape features the dusty Sharpless catalog emission region Sh2-155, the Cave Nebula. In the composite image, data taken through narrowband filters tracks the glow of ionized sulfur, hydrogen, and oxygen atoms in red, green, and blue hues.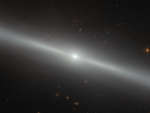 NGC 4762: A Galaxy on the Edge
4.11.2014
Why is there a bright line on the sky? What is pictured above is actually a disk galaxy being seen almost perfectly edge on. The image from the Hubble Space Telescope is a spectacular visual reminder of just how thin disk galaxies can be.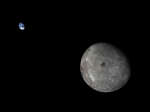 Moon and Earth from Chang e 5 T1
3.11.2014
Described at times as a big blue marble, from some vantage points Earth looks more like a small blue marble. Such was the case in this iconic image of the Earth and Moon system taken by the Chang'e 5-T1 mission last week.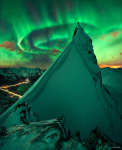 In Green Company: Aurora over Norway
2.11.2014
Raise your arms if you see an aurora. With those instructions, two nights went by with, well, clouds -- mostly. On the third night of returning to same peaks, though, the sky not only cleared up but lit up with a spectacular auroral display.