Astronomy Picture Of the Day (APOD)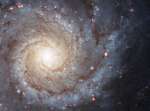 M74: The Perfect Spiral
1.12.2007
If not perfect, then this spiral galaxy is at least one of the most photogenic. An island universe of about 100 billion stars, 32 million light-years away toward the constellation Pisces, M74 presents a gorgeous face-on view.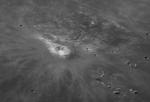 Aristarchus Plateau
30.11.2007
Anchored in the vast lava flows of the Moon's Oceanus Procellarum lies the Aristarchus Plateau. The bright impact crater at the corner of the plateau is Aristarchus, a young crater 42 kilometers wide and 3 kilometers deep. Only slightly smaller, lava flooded Herodotus crater is above and to the left.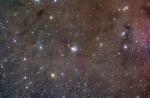 Stardust in Perseus
29.11.2007
This cosmic expanse of dust, gas, and stars covers some 4 degrees on the sky in the heroic constellation Perseus. Centered in the gorgeous skyscape is the dusty blue reflection nebula NGC 1333, about 1,000 light-years away. At that estimated distance, the field of view is nearly 70 light-years across.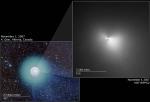 Comet Holmes from the Hubble Space Telescope
28.11.2007
Why did Comet Holmes brighten? The unexpectedly bright Comet 17P/Holmes continues to grace northern skies as a naked-eye addition to the constellation Perseus. Any northern sky enthusiast with a dark sky, a bright curiosity, and a recent sky map should still be able to locate the comet in a few minutes.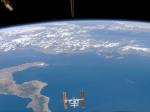 Space Station Over the Ionian Sea
27.11.2007
Last August, the Space Shuttle Endeavor crew captured this shot of the International Space Station (ISS) against the backdrop of Planet Earth. During that trip to the ISS, the space shuttle crew re-supplied the station, repaired the station, and even built more of the station.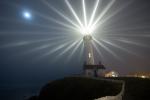 Moon Over Pigeon Point Lighthouse
26.11.2007
This spectacular sky is mostly human-made. Once a year, the Light Station at Pigeon Point near San Francisco, California, USA is lit as it was over 100 years ago. During this time, light generated by five kerosene lamps pours through 24 rotating Fresnel lenses, warning approaching ships to stay away.
An Iridescent Cloud Over Colorado
25.11.2007
Why would a cloud appear to be different colors? A relatively rare phenomenon known as iridescent clouds can show unusual colors vividly or a whole spectrum of colors simultaneously. These clouds are formed of small water droplets of nearly uniform size.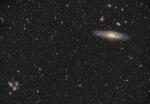 Galaxies in Pegasus
24.11.2007
This wide, sharp telescopic view reveals galaxies scattered beyond the stars near the northern boundary of the high-flying constellation Pegasus. Prominent at the upper right is NGC 7331. A mere 50 million light-years away, the large spiral is one of the brighter galaxies not included in Charles Messier's famous 18th century catalog.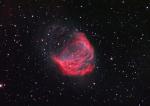 The Medusa Nebula
23.11.2007
Braided, serpentine filaments of glowing gas suggest this nebula's popular name, The Medusa Nebula. Also known as Abell 21, this Medusa is an old planetary nebula some 1,500 light-years away in the constellation Gemini. Like its mythological namesake, the nebula is associated with a dramatic transformation.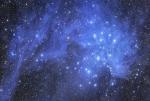 Pleiades and Stardust
22.11.2007
Hurtling through a cosmic dust cloud a mere 400 light-years away, the lovely Pleiades or Seven Sisters star cluster is well-known for its striking blue reflection nebulae. This remarkable wide-field (3 degree) image...